Lila May Banks Cockrell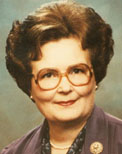 1984 Inductee
Community Leadership
Lila Cockrell, former San Antonio mayor (1976–1981), was the first woman mayor of a major American city.
During her years in city government, she served nine years (1963–1970 and 1973–1975) on the San Antonio City Council, was chairman of the Alamo Area Council of Governments, chairman of the Firemen's and Policemen's Fund Board of Trustees, and member of the city's public service, transit and water boards. As a member of the San Antonio City Council, Mrs. Cockrell worked to establish the first Mayor's Commission on the Status of Women.
Active in the League of Women Voters, Mrs. Cockrell served as president of the Dallas chapter (1953–1955) and president of the San Antonio chapter (1959–1963). She served on six state boards and commissions under four governors and was elected the first woman president of the Texas Municipal League.
Mrs. Cockrell was the president of the San Antonio Festival and a board member of the Southwest Texas Methodist Hospital Foundation and the San Antonio Air Force Community Council.
She is the recipient of more than 24 honors and awards for her work in government, community service and church activities.
Page last updated 10:56 AM, February 5, 2020