Kim Dawson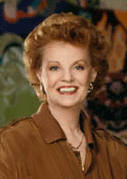 1987 Inductee
Business
(1924-2010)
Kim Dawson of Dallas, founder of the Kim Dawson Talent Agency, contributed to the growth of Dallas as a major fashion center in the country. Her guidance as a fashion industry spokesperson and producer of all the market shows helped the Dallas Apparel Mart become the largest in the nation.
The Kim Dawson Talent Agency's divisions include fashion, print, children, men, radio and television. Through her philanthropic efforts. Dawson supported the Dallas Chamber of Commerce, Dallas Theater Center, Goodwill Industries, Salvation Army, the YMCA of Metropolitan Dallas, Dallas Communications Council, Women in Film and the Fashion Group of Dallas.
A native Texan, Ms. Dawson was born in Center. As president of the Kim Dawson Talent Agency, she oversaw the largest model and talent agency in the Southwest.
Page last updated 11:18 AM, February 5, 2020