Kay Granger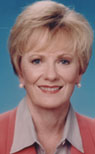 1998 Inductee
Government
Congresswoman Kay Granger's long-standing public service is indicative of her desire to improve the lives and communities of those who call Texas home. She was the first Republican woman from Texas to serve in the U.S. House of Representatives. During her first year in Congress, Congresswoman Granger established a record as "a rising star of the freshman class," according to the Capitol Hill newspaper Roll Call.
The day she was sworn into office, she introduced legislation to require that both the president and congress present certified balanced budgets. Later, as a member of the House Budget Committee, Granger not only helped write the first balanced budget since 1969 but also implemented the first tax cuts since 1981.
A lifelong resident of Fort Worth, Congresswoman Granger served as mayor from 1991 to 1995. During her tenure she reduced crime by 49 percent and attracted several new businesses. Her success as mayor was recognized when Fort Worth received the prestigious All-American City award from the National Civic League.
Congresswoman Granger has served on numerous committees. In 2003, she was an Assistant Majority Whip and served on both the House Budget Committee and the powerful House Appropriations Committee. She also served on three important appropriations subcommittees: Transportation, Military Construction and Labor-Health and Human Services. Her hard work and dedication to serve others gained national recognition. It is little wonder that George magazine listed Congresswoman Granger as "one of the most compelling freshman of the 105th Congress." The Washington Times called her "the most often mentioned newcomer to Congress," and Roll Call urged its readers to "keep an eye on Granger."
She has touched the lives of many through her dedication, duty and honor as a public servant to her community, to her native State of Texas and her nation. As a member of Congress she continues working with dignity and pride toward a better Texas and a better America.
Page last updated 4:35 PM, March 4, 2020