Kay Bailey Hutchison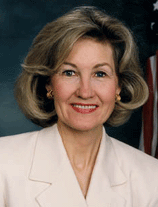 1996 Inductee
Government
Senator Kay Bailey Hutchison attained the highest level of achievement in each area of government she has served. She is the first woman from Texas to enter the United States Senate. In June 1993, she was elected by the largest margin of votes ever received in the United States against an incumbent senator. In November 1994, she was re-elected to a full six-year term. She inspires women to strive toward their highest potential, providing a model of perseverance for all Texans.
A former chairman of the Senate Republican Steering Committee, Senator Hutchison chairs the Senate Conference Committee's Subcommittee on Surface Transportation and Merchant Marine.
In 1995, she was named a deputy Majority Whip and co-chair of the Senate GOP Regulatory Reform Task Force.
The first Republican woman to serve on the Armed Services Committee, Senator Hutchison proved a strong advocate for United States military personnel and their families, and for increased readiness and support for our armed forces.
She served on the Senate State Select Committee on Intelligence (also the first woman to serve on this committee), Small Business, and the Commerce, Science and Transportation Committees.
Senator Hutchison consistently voted to roll back federal mandates and to limit the power of the government. Before her election to the Senate, she served as the Texas state treasurer from 1991 to 1993. Her election as state treasurer marked the first time a Republican woman was elected to a statewide office in Texas.
Senator Hutchison entered law school at the University of Texas on an accelerated program and was one of only seven women in a graduating class of more than 400.
Page last updated 5:03 PM, March 5, 2020