Kathleen Foster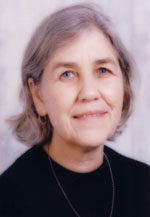 2006 Inductee
Leadership
It was 1982, and Kathleen Foster had $500 and a dream. She had spent eight years working with the mentally ill and homeless and discovered a serious need: parents trying to deal with their own homelessness, mental illness, chemical abuse or joblessness could not provide adequately for their children, so those children needed help, too. Kathleen Foster, with her friend Bill Jones, rented a house in a poor section of Houston and began taking in these young children in crisis, providing them with a safe home. They called it Casa de Esperanza de los Niños - the House of Hope for Children.
Ms. Foster's original plan was to care for the children short-term, until their parents got back on their feet. But the magnitude of the problem soon became clear as more and more children appeared, traumatized by abuse or neglect, many of them physically fragile or emotionally disturbed. Casa de Esperanza grew out of necessity, eventually incorporating into a nonprofit agency with Ms. Foster as director.
Today, Ms. Foster directs an organization with a full-time staff of 45, a volunteer force of over 400, and an annual budget of more than $2 million. Every year, Casa de Esperanza provides a multi-faceted, comprehensive program for hundreds of traditionally difficult to serve children, ranging from birth to age six.
Casa de Esperanza's Residential Program provides the highest quality foster care through nine agency foster homes and over 40 community-based foster homes. Casa Caseworkers help parents get the right treatment and services to provide a stable home. The in-house medical clinic provides medical evaluation and treatment for the children, while the Children's Development Center provides psychological, psychiatric and developmental evaluation and therapy. Casa de Esperanza's after-care and outreach program supports families during children's transition back into their homes, while adoption and post-adoption programs serve children who can't return to their biological families.
Casa Academy offers school-age children a flexible, less stressful educational environment. Through the generosity of major donors, a scholarship program has recently been established to help former Casa de Esperanza children attend a college, university or technical/vocational school. All services are provided free of charge, and the organization's budget is raised from only private sources, with no government funding.
Twenty years ago, as the AIDS epidemic emerged, Ms. Foster expanded Casa de Esperanza's mission to include HIV-positive children. It was among the first agencies nationwide to recognize and respond to this growing need, and today, has been serving these children longer than any other agency nationwide.
To date, under Ms. Foster's leadership, Casa de Esperanza has served over 2,000 indigent children and their families, and has facilitated more than 185 special-needs adoptions. Through her dedication to breaking the cycle of abuse and neglect, Ms. Foster has not only improved the lives of thousands of Texas children, but also diminished future societal costs. Every year, Ms. Foster and Casa de Esperanza save Texas taxpayers thousands of dollars by providing whole-child care for a minimal amount, for children who otherwise might be confined to a hospital, nursing home or psychiatric facility.
Ms. Foster's commitment has extended beyond her professional life and into her own home, where she is the mother of six adopted children. So whenever she talks with single or adoptive parents, Ms. Foster can relate to their parenting struggles and challenges at a very personal level. Ms. Foster's personal passion and insightful guidance have led to changed lives and new hope for many Texas children who have suffered from abuse, neglect or HIV.
Page last updated 4:17 PM, March 4, 2020