Kate Atkinson Bell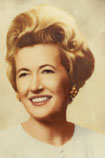 1984 Inductee
Education
(1907-2003)
Dr. Kate Bell dedicated many years of service to a career in education as a classroom teacher and school administrator. In recognition of her contributions, the City of Houston named a school in her honor, the Kate Bell Elementary School.
Dr. Bell taught 11 years in the Houston Independent School District and eight summers at the University of Houston. She served as principal of Port Houston Elementary School for three and a half years; as Assistant Director of Elementary Education, 14 years; Director for Elementary School, nine years; Assistant Superintendent for Elementary Schools, Area IV, four years; and Assistant Superintendent for Basic Skills, K-12, three years.
Dr. Bell served as member of the White House Conference on Education (1955 and 1960), the State Board of Examiners on Teacher Education, and the Texas Commission on Science. She received 23 awards for her achievements in education.
Dr. Bell was a life member of the Texas State Teachers Association and an Honorary Life Trustee of the Texas Retired Teachers Foundation.
Page last updated 10:16 AM, February 5, 2020