Karen Hughes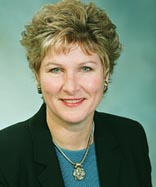 2002 Inductee
Public Service
Karen Hughes served as counselor to President George W. Bush until July 2002 and was the highest-ranking woman ever to serve in the White House. She is one of the President's closest confidants and is responsible for shaping the agenda and public discourse that has dominated the headlines since President Bush took office. As counselor to the president, Mrs. Hughes provided strategic advice to President Bush and had oversight over every public word uttered from the White House.
Mrs. Hughes' career began in 1977 as a reporter in Dallas/Fort Worth where she had a reputation for being thorough and fair. Within seven years she was named Texas press coordinator for the 1984 Reagan/Bush campaign. Following the successful efforts of the 1984 campaign, Mrs. Hughes became a public relations and media consultant in Dallas, where she proved to be a highly effective political and communications strategist. In 1992 she served as executive director of the Republican Party of Texas where she led the party through an intense redistricting battle and helped shape a message that appealed to Texas voters, which contributed to the party's exponential growth in the early 1990s.
George W. Bush handpicked Mrs. Hughes to be his director of communications in 1994 when he decided to run for governor of Texas. Since then she has been by his side shaping his message and agenda, setting the tone in the White House and elevating other women to positions of authority within the Bush Administration.
Although deeply committed to her role as a presidential advisor, Mrs. Hughes' family is her first priority. It was this commitment to family that led to her decision to step out of the spotlight in Washington and return home to Austin where her son could lead a normal life and finish high school with his friends. Mrs. Hughes remains a close advisor to President Bush.
Page last updated 4:39 PM, March 5, 2020