Judy Rankin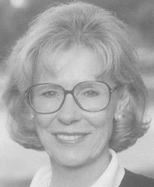 2000 Inductee
Physical Fitness and Recreation
Judy Rankin has been an outstanding representative of the State of Texas for more than three decades, serving as an advocate, role model and teacher to women of all ages. She won 26 professional golf tournaments and led an active and healthy life while promoting good health for women of all ages.
During Ms. Rankin's 22-year career on tour with the Ladies Professional Golf Association (LPGA) and through her continuing involvement in the sport of golf, she has spread the gospel of fitness and personal achievement. Her example as a talented and committed advocate has encouraged many women to pursue excellence.
In 1995 Ms. Rankin shared her teaching talents with the world in her book, A Woman's Guide to Better Golf.
Ms. Rankin has earned seven LPGA awards including two Rolex Player of the Year awards and three Vare Trophies. From 1998 to 2000 she was awarded the William and Mousie Powell Award, the Golf Writers of America William H. Richardson Award, the PGA of America's 1999 First Lady of Golf Award, and the LPGA's 1999 Patty Berg Award for her outstanding contribution to the sport of golf. In 2002 she won the USGA Bob Jones Award.
In 1999 Ms. Rankin was inducted into the Texas Sports Hall of Fame and into the 2000 the World Golf Hall of Fame. At the time of induction into the Texas Women's Hall of Fame she was a commentator for ABC Sports and ESPN and an advisor for Golf Digest magazine.
Page last updated 4:35 PM, September 7, 2022