Judith B. Craven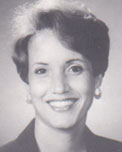 1989 Inductee
Education
The dedication of Judith Craven, M.D., M.P.H., to her medical career earned her numerous awards including Outstanding Contributions on Public Health in 1984 and Outstanding Service to Medicine in 1985. She received awards from the American Leadership Forum, the American Council on Education National Forum, Outstanding Young Women of America and Women on the Move.
She began her professional career as a placement and financial aide counselor at a community college in Cleveland, Ohio. Craven taught night school at the high school level from 1966 to 1968.
Following graduation from medical school, she was named chief of anesthesia for Riverside General Hospital in Houston. From 1978 to 1983, she was chief of Family Health Services for the City of Houston Health Department, and after 1983, she continued to serve as a major in the U.S. Army Medical Corps Reserves.
Since then, Craven served as the dean of the School of Allied Health Science at the University of Texas Health Science Center in Houston, vice president of minority affairs for the University of Texas Health Science Center, vice chair of the United Way of Texas' Public Policy Management Division and president of the United Way of Texas.
Craven also served on the Robert Wood Johnson National Advisory Committee on Health Care for the Uninsured, the Houston Committee for Private Sector Initiatives and numerous other organizations.
Craven received her bachelor of science degree in 1966 from Bowling Green State University in Ohio, her doctor of medicine degree in 1974 and a master of public health degree from Houston's University of Texas School of Public Health in 1981. In 1985, she received her completion certificate from the Harvard University Program for Senior Managers in Government at the John F. Kennedy School of Government.
Page last updated 11:15 AM, February 5, 2020