Jody Conradt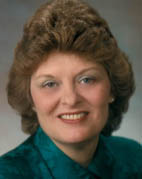 1986 Inductee
Athletics
Jody Conradt, former head coach of the University of Texas' women's basketball team, is hailed as the one of the winningest coaches in college women's history. She joined The University of Texas at Austin in 1976, after which the Lady Longhorns became recognized as one of the most successful basketball teams in the country. In March 1986, Coach Conradt's players won the NCAA national championship with a perfect 34-0 record. The team captured four Southwest Conference championships and advanced to post-season national tournaments every year from 1980 to 1986.
As of 1986, Coach Conradt won 86.8 percent (322 wins, 49 losses) of all the games she coached for UT, and she had 439 coaching victories in her career. In 1980, 1984 and 1986 she received the National Coach of the Year awards. In 1984 and 1985 she was Southwest Conference Coach of the Year.
She contributed greatly to the 94 percent graduation rate compiled by UT's Department of Intercollegiate Athletics for Women since 1974, and she never lost an athlete to academic dismissal.
Coach Conradt earned bachelor's and master's degrees in physical education from Baylor University and served as UT's athletics director from 1992 to 2001.
Page last updated 11:04 AM, February 5, 2020