Joanne Herring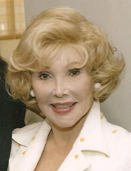 2014 Inductee
Community Service
An intriguing blend of ambassador and celebrity, Joanne King Herring holds a unique place in the cultural fabric of Texas. Throughout her life, she has stepped forward to help others in need.
Long known within the corridors of power in both Afghanistan and Pakistan, Herring's freedom fighting role in southwest Asia was brought to a wider American audience when the true-life 1980s story of "Charlie Wilson's War" was retold in 2007, with Oscar winning actress Julia Roberts playing the remarkable Herring. As movie-goers learned, Herring and Congressman Charlie Wilson were instrumental in forcing the withdrawal of Soviet forces from Afghanistan — without the loss of a single U.S. soldier.
A native Texan, Herring has worked for more than 20 years among the villages of Pakistan, restructuring cottage industries. In 2009, Herring founded Marshall Plan Charities, a nonprofit corporation dedicated to Afghanistan recovery. The organization complements the ongoing U.S. military effort in Afghanistan by rapidly and effectively redeveloping normal, healthy civilian life, village by village.
Herring's ability to coordinate the ministers, factory owners and illiterate workers on the other side of the Afghan border earned her the Quaid-e-Azam award, the highest honor given by the nation of Pakistan. She has also been honored to serve as a roaming Ambassador of Pakistan. As Consul General to both Pakistan and Morocco simultaneously, the skilled diplomat was a trusted advisor to the leaders of both countries.
Herring's other honors include being made Dame by the Order of St. Francis and being knighted by the King of Belgium. She is also the recipient of the Freedom Foundation at Valley Forge Award, the Development in Literacy Lifetime Achievement Award, the 2012 Consular Corp Lifetime Achievement Award and the 2013 Southern Heritage Lifetime Award. She is the only woman to receive the Afghan Army Award. Herring co-chaired the Special Olympics in New York City with former Secretary of State Henry Kissinger.
Her Texas roots have also called Herring to aid those in her hometown of Houston. At a young age, she helped her grandmother found The Women's Home, now a highly-successful rehabilitation center. Herring also founded UNICEF in Houston, the Colitis and Ileitis Foundation, the Noche de las Americas Ball to honor Houston Hispanics and the Consular Ball to honor Houston's large consular community. Joanne Herring has spent a lifetime mastering the art of building cooperation between diverse groups. She refuses to slow down, is constantly moving forward and never quits.
Page last updated 4:58 PM, September 21, 2021