Jenny Lind Porter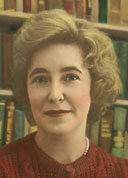 1985 Inductee
Liberal Arts
Dr. Jenny Lind Porter of Austin, author and professor of English at Huston-Tillotson College, was appointed Poet Laureate of Texas in 1964 by Texas Governor John Connally. Some of her poems, articles and translations for which she received international recognition include: The Lantern of Diogenes, Azle and the Attic Room, The Trellis of Memory (with Elithe Hamilton Kirkland). In 1981 she authored The Siege of the Alamo: A Poem, and the following year Dr. Porter wrote The Judge's Collection.

In 1979, Dr. Porter became the only woman to receive the Distinguished Diploma of Honor from Pepperdine University. In 1970, she received an honorary doctorate from the University of Free Asia for literacy and humanitarian endeavors. She received her bachelor's and master's degrees from Texas Christian University and her doctorate from the University of Texas at Austin.

During her career, Dr. Porter taught English and creative writing to some 12,000 Texas students. She was named one of the Outstanding Educators of America and selected for the International Who's Who of Poetry.
Page last updated 11:17 AM, October 5, 2016