Jeane Porter Hester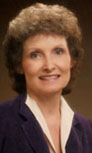 1984 Inductee
Science and Technology
Dr. Jeane Hester, of Houston, is an internist, associate professor of medicine, chief of supportive therapy as well as chief of pheresis service at M.D. Anderson Hospital and Tumor Institute. Dr. Hester's cancer research lead to breakthroughs in the development of blood cell separation.
She has been an exchange scientist with the Soviet Union (Russia) at the National Institute of Blood, Heart, and Lung. She has published 53 medical research articles and is a former member of 14 medical societies.
Dr. Hester served on the editorial boards of the Journal of Clinical Aphereis, Journal of The American Medical Association, and Plasma Therapy and Transfusion Technology.
She was inducted in the U.S.A.O. Alumni Hall of Fame in 1976 and received the First Past President's Business and Professional Women's Award in 1980 from the Texas Federation of Business and Professional Women's Clubs.
Dr. Hester received her bachelor's degree from Oklahoma College for Women and her medical degree from the University of Oklahoma School of Medicine.
Page last updated 4:25 PM, March 5, 2020