Jane Allman Wetzel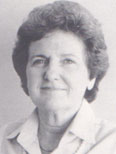 1989 Inductee
Civic Leadership
Jane Wetzel's appointment by Governor Bill Clements as chairman of the Texas Juvenile Probation Commission capped a lifetime of work and dedication to the welfare of Texas youth.
She served as president of the Texas Coalition for Juvenile Justice and was a member of the Governor's Juvenile Justice and Delinquency Prevention Advisory Board. She also served as vice chairman of the Children and Youth Services State Coordinating Committee of Texas Health and Human Services Coordinating Council.
In her hometown of Dallas she was chairman of the Dallas County Youth Services Advisory Board's Long Range Planning Committee and also served on the Juvenile Justice Committee of the North Texas Council of Governments. She served as president of the Girls Adventure Trails, former chairman of Girls' Day Center, and was a former member of Dallas Child Guidance.
She is a committed Girl Scouts of America volunteer, and she served as a board member of the Texas Girl Scout Endowment Foundation.
Ms. Wetzel's volunteer efforts earned her the Dallas County Outstanding Volunteer Advocate Award and the Junior League of Richardson Outstanding Volunteer Award.
She began her career as an elementary school teacher at Benito Juarez School in West Dallas. She is a graduate of Southern Methodist University with a degree in education and government.
Page last updated 1:30 PM, September 29, 2016