Helen Matusevich Oujesky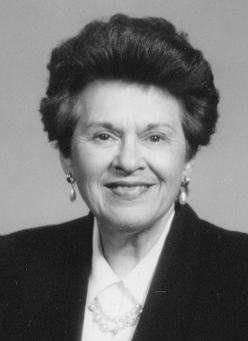 1996-1997 Inductee
Education
(1930-2010)
Dr. Oujseky, a professor of microbiology at the University of Texas at San Antonio, contributed valuable research concerned with the environmental pollution of soil and water. Her research in environmental microbiology was recognized nationally as well as statewide. Her work in applied microbial ecology and effects of environmental pollutants on microbial metabolism was of great significance in water and land pollution of toxic wastes. She presented her research at the local, state and national level. She was an invited speaker on her research at the prestigious 5th International Biodeterioration Symposium in Aberdeen, Scotland.
Many significant contributions were made in her leadership roles in local, state and national progressional organizations. Dr. Oujesky was extremely involved in helping precollege students develop an interest in scientific research and presenting their work at science fairs and junior science academies at both the local and state level. She has also played a significant role in assisting young women, particularly high-risk minorities, in their endeavors to become involved in science, math and engineering.
Dr. Oujesky presented throughout the country for educational equity for girls and women. She received many awards from the National Science Foundation including five awards from Student Science Training Programs for High School Students, three awards for Minority Research Programs for Minority High School Students and one award for an Intervention Model Program for Girls Using Laboratory Activities in Science, Math and Engineering. Dr. Oujesky dedicated 45 years in education to helping students further their knowledge of science and math and, more importantly, helped these students develop a belief in themselves.
Page last updated 4:19 PM, September 7, 2022