Helen Farabee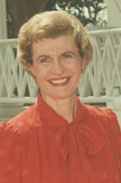 1985 Inductee
Volunteerism
(1934-1988)
Helen Farabee of Wichita Falls chaired the Task Force on Indigent Health Care. She was responsible for developing recommendations approved by the 69th Texas Legislature to provide basic preventive medical care for Texas' indigent. She also served on almost 30 local, state and national boards and chaired several top legislative task forces.
In 1976, she chaired the Texas Advisory Council on the Construction of Community Mental Health Centers, and in 1977, she chaired the Texas State Mental Health Advisory Council. Two years later, she received the Commissioner's Award for Service to the Texas Department of Mental Health and Mental Retardation. From 1981 to 1983, she chaired the Mental Health Code Task Force of Texas.
Her work as chairman of the Special Senate Committee on the Delivery of Human Services in Texas played a key role in the creation of the Texas Health and Human Services Coordinating Council, of which she was a member.
Governor Mark White asked Mrs. Farabee to chair the Problems and Issues Committee of the Governor's Commission for Women.
She received her undergraduate degree from the University of Wisconsin where she was elected student body president.
Helen Farabee died on July 28, 1988.
Page last updated 10:10 AM, March 4, 2020