Hallie Stillwell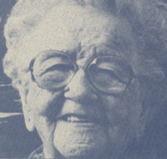 1994 Inductee
Business and Professional Leadership
(1897-1997)
Hallie Stillwell preferred the title "ranch woman," and ranch woman she was. She taught school, wrote columns for Texas newspapers, traveled as a lecturer and served as a justice of the peace, but she always said the ranch was where she belonged. "There's something about ranch life that you don't give up," she said. "Everything I ever did was for the ranch. I can't imagine life without it."

Mrs. Stillwell was born near Waco in 1897. After a circuitous wagon journey across west Texas and New Mexico, her family settled in Alpine. By the time she graduated from high school she had earned a teacher's certificate. She taught in Presidio, where her pay included a hazardous job supplement because her classroom was in pistol range of Pancho Villa's Revolutionary army.

In 1918, she married Roy Stillwell and moved to his Big Bend ranch, where she rode with the cowboys, worked as a ranch hand and reared her three children. In 1948, Mr. Stillwell died in a truck accident, and the responsibility of the ranch and the family fell solely to Mrs. Stillwell.

A drought reduced the income of the ranch, so she earned extra money by a multi-state speaking tour, visiting college campuses and civic clubs to describe the life of a Texas woman rancher. Back in Alpine she managed a coffee shop, clerked for the city, worked in a flower shop, handled public relations for the local chamber of commerce and served as justice of the peace.

The drought continued, and despite her work the ranch was on the line. Then, in October 1955, the Alpine Avalanche published her first "Ranch News" column. Her byline quickly became a negotiable asset, and her column was carried statewide. Her literary success helped bring the ranch through the drought.

Mrs. Stillwell co-authored the book How Come It's Called That, and in 1991 Texas A&M University published her autobiography, I'll Gather My Geese. In recognition of her literary skill, the Texas Press Association honored her with its 50-year achievement award.

She was named A Yellow Rose of Texas by the governor and designated a "Texas Grande Dame" by Texas Monthly magazine for her contributions to Texas. In 1992, she was inducted into the National Cowgirl Hall of Fame.

Hallie Stillwell died in August 1997, two months and two days short of her 100th birthday.
Page last updated 12:36 PM, October 5, 2016