Glenna Goodacre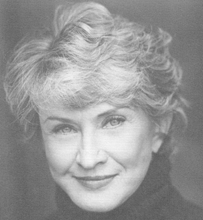 2000 Inductee
Arts
Glenna Goodacre, considered by many to be "America's Sculptor," is most readily recognized as the sculptor of the bronze Vietnam Women's Memorial in Washington, D.C. Since its unveiling in 1993, this monument has given strength to veterans, family members and friends as the healing continues.
Her works, which reflect the full spectrum of human activities and evoke a wide range of emotion, includes statues of the following individuals: Stephen F. Austin, President Dwight D. Eisenhower, Scott Joplin, Senator Barbara Jordan, Katherine Ann Porter and William B. Travis. These works are exhibited at the Sea World San Antonio entrance.
In 1998, Ms. Goodacre created a 7-foot-6-inch standing portrait of President Ronald Reagan for the National Cowboy Hall of Fame in Oklahoma City and the Ronald W. Reagan Presidential Library and Museum in Simi Valley, California.
Ms. Goodacre's work was selected from a field of 121 entries by 23 sculptors as the design for the Millennium Golden Dollar. The coin, released in March 2000, features Sacajawea and her infant son. It is the only coin in circulation that features a mother and child and is not a profile design.
Ms. Goodacre's latest work is a bronze monument in tribute to Irish immigration during The Great Hunger (1845-1850), complimented with educational stations, landscaping and Celtic-themed design/landscaping. The dedication/unveiling was held on October 5, 2002, at Penn's Landing, Philadelphia, Pennsylvania. The monument consists of 35 life-size figures sculpted in the round and measures approximately 12 feet high, 30 feet long and 12 feet wide, making this her most ambitious public sculpture yet.
Page last updated 4:32 PM, March 4, 2020