Ginger Kerrick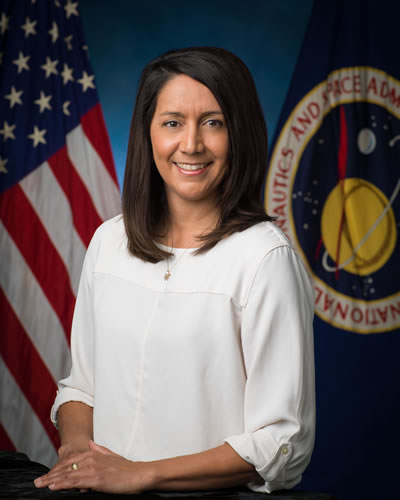 2016 Inductee
Science, Technology, Engineering, Math
Inspired by a library book, Ginger Kerrick knew she wanted to be an astronaut — at the age of 5. Her mother encouraged her to study science and math, but a high school teacher told her that girls could not succeed in physics. Ginger Kerrick majored in physics and proved him wrong. Today, Kerrick is division chief of the Flight Operations Directorate Integration Division at NASA's Johnson Space Center in Houston.
Born and raised in El Paso, Kerrick excelled in academics and athletics. On the very day she made the middle school basketball team — a team sport she thought would be important for astronaut training — her father passed away. It was his interest in science that had sparked hers as a young girl. Among the 186 tadpoles her father helped her raise in the backyard, George was her favorite — he had ;only three legs. With her mother's steadfast support, Kerrick attended the University of Texas at El Paso for two years. On a tour of Texas Tech University, where her father had attended, Kerrick shared her dreams with a professor of one day working at NASA. But she could not afford tuition. By the end of the tour, the professor had arranged three scholarships and a few part-time job opportunities for her.
Kerrick earned her bachelor's and master's degrees in physics from Texas Tech and was then accepted to NASA's Cooperative Education Program and reported to the Johnson Space Center in Houston in 1991. She began as a materials research engineer and quickly climbed the ranks to become a life support systems instructor for the International Space Station. Kerrick faced a setback when she was turned down for the NASA Astronaut Class of 1996 due to a medical disqualification. Following her own advice to others — don't get stuck, just find a different path — Kerrick used her knowledge and skills to train other astronauts for space flight.
Kerrick broke professional barriers to become the first Russian-training-integration instructor, the first non-astronaut Capsule Communicator (CAPCOM) for the International Space Station and, later, NASA's first female Hispanic Flight Director. Her favorite part of her job today is encouraging the young girls who visit NASA to study science. Kerrick also regularly inspires students across the state, promoting the science, technology, engineering and math (STEM) disciplines at local schools, universities and non-profit events.
In 2015, Kerrick taught in the STEM-MBA Program at Texas Tech University's Rawls College of Business and served on the Scholarship, Chapter Development and Academic Recruitment Committees for the Texas Tech Alumni Association. She is an avid runner, an experienced cake decorator, plays sand volleyball and is the volunteer coordinator for a non-profit dog rescue, Triumphant Tails, Inc.
Page last updated 9:07 AM, May 19, 2022