Frances E. Goff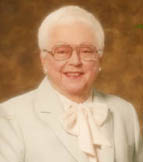 1986 Inductee
Volunteerism
(1916-1994)
Frances Goff of Houston was special assistant to the president, at The University of Texas System Cancer Center, M.D. Anderson Hospital and Tumor Institute. For 35 years Ms. Goff devoted her two-week vacations to teaching Texas high school girls about state government. She served as volunteer director of Bluebonnet Girls State, a 10-day summer program sponsored by the American Legion Auxiliary. Ms. Goff worked year-round in her free time directing a staff of 70 volunteers in preparation for the summer program. The program replicates the state election process and each year teaches 580 young women how city, county and state governments work. During her volunteer involvement with Bluebonnet Girls State, over 20,000 young women were taught patriotism, citizenship and governmental procedure.
Ms. Goff received many awards, including the Valley Forge Freedoms Foundation Honor Award for Individual Achievement and the 1986 Texas Lutheran College Distinguished Service Award.
Until 1982 Ms. Goff served as director of special projects at M.D. Anderson Hospital. From 1951-1978 she worked as a liaison between architects, interior designers, and contractors who were building and developing M.D. Anderson Hospital.
Page last updated 4:31 PM, March 4, 2020