Emma Carter Browning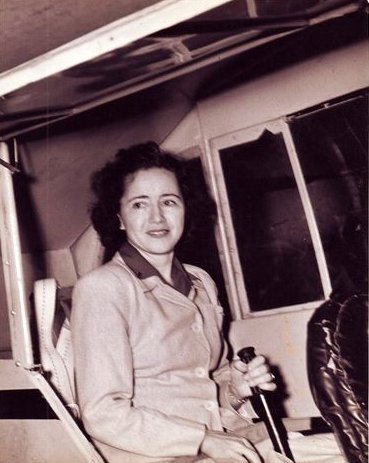 2016 Inductee
Aviation
(1911-2010)
Though she stood barely 5 feet tall, Emma Carter Browning commanded the respect of the men she trained and the Texas governors she served. She was just 18 years old in 1929 when she flew her first plane and fell in love with flying — and with Robert Browning, a daredevil barnstorming pilot. An aviation pioneer and a sharp businesswoman, Browning never accepted being a woman in a male-dominated industry as a disadvantage. In her career and in her life, she knew no boundaries — for all of her 99 years.
Browning grew up in Eastland, Texas, one of 11 siblings. Soon after her mother died, young Emma learned to handle responsibility at an early age, managing the household at just 14. Encouraged by her father, she attended Abilene Business College. At 17, she paid $1 for her first ride in an airplane — an open cockpit bi-plane flown by a barnstormer, one of the men trained in World War I as pilots who then made a living performing aerial stunts and selling airplane rides. A year later, she met her future husband on a blind date. They were soon married, and though times were tough during the Depression years, they earned a living in the burgeoning civil aviation industry.
While managing a fixed-base operation at Abilene Airport, the Brownings befriended fellow aviation pioneer Amelia Earhart while her aircraft underwent repairs. In 1939, Browning received her certification as a solo pilot and moved to Austin with her husband and young son to found and operate Browning Aerial Services. Together they provided training through the Civilian Pilot Training Program created by President Franklin D. Roosevelt to strengthen the U.S. military in the World War II era. In 1942, Browning Aerial Services began training pilots for the U.S. Army Air Corps.
The Brownings helped form the Texas Flight Training Association, the Civil Aeronautics Authority and the Texas Aeronautics Commission, bringing together fixed-base operator owners from across the state and nation to better serve the civilian aviation industry. Browning was known to take aspiring young pilots under her wing, but she was also a driving force in the industry. The men who worked and trained under her respected her. Through the years, Texas governors flew out of her airport. She made sure each received the best treatment, and they held her in high esteem.
After her husband's passing in 1973, Browning became president of Browning Aerial Services, operating the business and managing relations with local, state and federal regulators before selling the business to Signature Flight Services in 1987. "I never expected special privileges," Browning said, "If I had, I wouldn't have lasted long. Now I own a piece of this mighty thing called aviation."
Browning passed away in 2010, leaving behind enormous contributions as an entrepreneur, role model and larger-than-life force in the aviation industry and in the history of Texas.
Page last updated 10:33 AM, February 5, 2020