Elizabeth L. Ghrist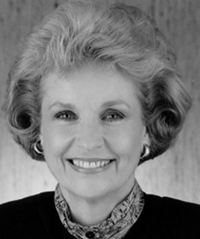 1998 Inductee
Civic, Volunteer, and Family Leadership
Elizabeth Lyons Ghrist, president of Liz Ghrist & Associates Inc., was always a pioneer in the areas of politics, community service and business. Her deep, long-standing commitment to her community and her tireless civic and volunteer efforts made her a pillar of strength, integrity and leadership to those around her. She worked hard helping those in need, while at the same time maintaining a strong commitment to her own family. Her daughter, Elaine, fondly recalls her mother leaving the house during a hurricane to serve the Red Cross, and the long hours she spent playing dominos with senior citizens at the Houston Junior Forum center.
The American Red Cross, the United Way and the Houston Junior Forum are just a few of the organizations Mrs. Ghrist faithfully supported.
Growing up as a child of the depression in San Antonio, she developed an ardent compassion for improving the lives of those less fortunate. Her inspiring vision and dedication propelled her to serve both as a leader and a friend on several distinguished committees. She held the position of vice-chair for the Women's Organizations Advisory Committee, the Economic Summit of Industrialized Nations, and the Host Committee for the Republican National Convention.
She serves on a number of boards including the Houston Advanced Research Center (HARC) Board, Entex Inc., Chase Bank of Texas, and the Texas Medical Center. She serves as a trustee of Hermann Hospital and a regent of the University of Houston. She is a former Harris County commissioner.
The honors and awards Mrs. Ghrist received reflect her pioneering enthusiasm to create and foster a brighter future for her community and the world. These honors include: the Bronze Medal for Meritorious Service, International Red Cross; Governor's Humanitarian Award for Volunteerism; Citizen of the Year, West Houston Chamber of Commerce; Who's Who in America 1992; and Volunteer of the Year, National Society of Fund Raising Executives.
Page last updated 4:23 PM, March 4, 2020