Eleanor Tinsley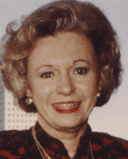 1988 Inductee
Public Services
(1926-2009)
Eleanor Tinsley's public service left its imprint throughout the state. In 1969, Ms. Tinsley was elected to the Houston School Board, where she served with distinction. She was only the fourth woman president. In 2001, the Eleanor Tinsley Elementary School was dedicated in her honor. Her strong leadership in integrating the Houston public schools in an orderly and non-violent manner set the example for positive integration throughout the state and resulted in a magnet school concept, which served as a national model.

In the late 70's, as President of the Texas Council of Child Welfare Boards, she lead the legislative fight to enable the state to pay for foster care for non-welfare children as well as those on AFDC. This freed up monies for other uses and benefited every county in the state.

In 1979, Ms. Tinsley became one of the first two women ever elected to the Houston City Council and the first and only one ever elected to an at-large seat. She was a City of Houston Council Member At-Large from 1980 to 1990.

She sees the growth and welfare of the people of Houston impacting directly on the character of the entire state, and she also recognizes that often the needs of one community are related to those of other communities. Hence her truck safety, billboard, 9-1-1, and trade mission initiatives.

During 1988 legislative sessions, she was active at the state level in the campaigns against attempts to weaken the ability of Texas cities to control signage in their own jurisdictions. She understands the interdependence of local and state level governing and has used this knowledge in a creative way to bring about major accomplishments.

Ms. Tinsley is the recipient of the Institute of Rehabilitation and Research President's Award for her work in aiding persons with disabilities. Additionally she was honored by the American Lung Institute of Texas with the Public Advocacy Award in 1988. Eleanor Tinsley Park was named in honor of Ms. Tinsley, who championed many proposals to improve the quality of every day life in the city. She founded the Spark Park Program, which developed 132 school playgrounds into recreation areas that the entire community can use and enjoy.

Ms. Tinsley wais a progressive force and represented the voices of all Texans who seek a more beautiful environment, safer lives, better education, and more justice and intelligence from their elected leaders.
Page last updated 11:42 AM, September 7, 2022