Ebby Halliday Acers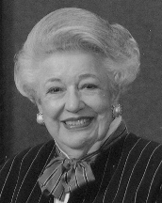 1996 Inductee
Business
(1911-2015)
Ebby Halliday, one of Texas' most outstanding businesswomen, guided Ebby Halliday Realtors from a one-office business founded in 1945 to a world-renowned 25 office operation. It is one of the world's largest independently owned residential real estate firms, assisting approximately 11,000 families a year with their real estate needs. The firm celebrated its 70th anniversary in 2015. Mrs. Halliday became one of the earliest successful independent businesswomen in the nation and a true Texas pioneer and a true Texas treasure.
She received every honor her fellow realtors can bestow including the 1979 Distinguished Service Award for outstanding service to the real estate profession from the National Association of Realtors. In 1985, she and her late husband, Maurice Acers were one of three couples worldwide to receive the Medal of Honor for Distinguished Service from the International Real Estate Federation. Mrs. Halliday served on numerous boards and advisory councils including the National Advisory Council for the Small Business Administration. She was appointed to the National Defense Advisory Committee for Women in the Services and served as president of Keep Texas Beautiful. She was trustee and chairman of the Committees Foundation of Texas and served on the Dallas County Community College District Foundation Board of Directors. In addition, Mrs. Halliday served as director emeritus of the State Fair of Texas and president of the North Dallas Chamber of Commerce.
A few of her many honors include: the Texas Business Hall of Fame, the Dallas Chamber of Commerce's Outstanding Woman in Business Award and the Dallas Brotherhood/Sisterhood Merit Citation Award.
Page last updated 10:05 AM, February 4, 2020