Dr. Shirley Neeley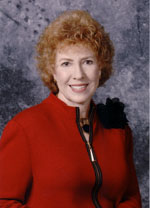 2006 Inductee
Education
Despite 35 years in education—and counting—Dr. Shirley Neeley will never forget the beginning of the 2005 - 06 school year. Within a month, she faced and overcame her biggest professional challenge, and benefited 46,500 students and the state of Texas overall.
When Hurricanes Katrina and Rita hit the Gulf Coast in August and September of 2005, the former caused one of the largest migrations of Americans within the past century, while the latter devastated a smaller section of the upper Texas coast, where small towns and close-knit communities depend upon their schools as unifying institutions. As Texas Commissioner of Education, Dr. Neeley was charged with ensuring that almost 50,000 new students find Texas schools ready to receive them.
During the twin disasters that befell Texas and its neighboring states, Dr. Neeley traveled not only around the state, but also to Louisiana to meet with educators there about what Texas might do to help their children. For weeks, she kept long hours and held daily progress meetings, making herself constantly and consistently accessible.
Ultimately, Dr. Neeley and her devoted team of educational leaders provided Texas schools with a clear vision and purpose in opening their doors to new students, and in doing so, helped return a sense of normalcy and security to those transplanted children's disrupted lives.
Dr. Neeley began her education career in 1971 as an elementary-school teacher in Pasadena Independent School District. She taught there for three years, then left for a year to have her daughter, Brandy, and complete her Master of Science degree. Within eight years, she rose through the ranks to assistant principal, then principal, and eventually, to Superintendent of Galena ISD—the same district she had grown up in.
During her ten-year term as superintendent, Dr. Neeley built a cohesive administrative team and improved student performance, culminating with the district becoming Texas' largest exemplary school district from 2002 to 2004. Additionally, in 2003, Dr. Neeley was named the State of Texas' Superintendent of the Year, Region IV Superintendent of the Year, and Educator of the Month by Texas School Business magazine.
Named Texas Commissioner of Education in 2004 by Governor Rick Perry, Dr. Neeley serves as head of the Texas Education Agency and is responsible for overseeing more than 1,035 school districts and 200 charter schools, educating 4.4-million Texas schoolchildren. The self-described "head cheerleader for Texas schools," Dr. Neeley's approach has been characterized by her high energy, high expectations, and complete commitment to doing what's best for our kids. Dr. Neeley is dedicated to every Texas child receiving a first class education, so that they can become both productive citizens and lifelong learners.
Page last updated 4:07 PM, September 7, 2022