Dr. Huda Zoghbi, M.D.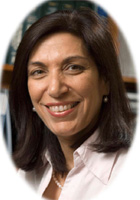 2008 Inductee
Health Research
Dr. Huda Zoghbi spent most of her first semester of medical school living in the corner of a ladies' room in a building at the American University of Beirut, while bombs fell outside heralding Lebanon's civil war. At the end of that year, her parents sent Huda to join a sister in Texas. At 22, she began a new life in America, transferring to Nashville's historically black Meharry Medical College.
Dr. Zoghbi returned to Texas for pediatric residency at Baylor College of Medicine in Houston and has never left. She became Chief Pediatrics Resident, then continued residency in Neurology and Pediatric Neurology. But in 1985 – the same year she became a U.S. citizen – Dr. Zoghbi was expecting her first child. She found herself emotionally devastated telling other parents their children had debilitating and essentially untreatable genetic disorders. Dr. Zoghbi sought training in molecular genetics research, to study and help eradicate some of these disorders.
Within ten years, Dr. Zoghbi progressed to her current position as a Professor in the Departments of Pediatrics, Molecular and Human Genetics, Neurology and Neuroscience, and as an Investigator with the Howard Hughes Medical Institute. Dr. Zoghbi specializes in brain disorders, studying the genes that cause the brain to develop and function properly.
While still a resident, Dr. Zoghbi began her research of Rett Syndrome, a developmental disorder that strikes girls around the age of 18 months, causing a broad spectrum of disabling symptoms. Dr. Zoghbi's team identified the gene that, when mutated, causes the disease; she subsequently led a study showing the same gene also controls thousands of other genes – so when it mutates, it can manifest as many different disorders, from autism to schizophrenia.
Dr. Zoghbi's team collaborated with others to identify the genetic mutation causing Spinocerebellar Ataxia Type I, a neurodegenerative disorder that severely compromises balance, impairing walking, talking, and eventually, swallowing and breathing. Dr. Zoghbi has learned that the disease mechanism in this ataxia is similar to mechanisms contributing to Alzheimer's and Parkinson's diseases – so progress in treating one might mean treating even more.
A brilliant, dedicated scientist, Dr. Zoghbi has earned dozens of honors and awards, including becoming the first woman from Baylor College of Medicine to be elected into the Institute of Medicine and the National Academy of Sciences.
Page last updated 5:01 PM, October 9, 2019