Dr. Elsa Murano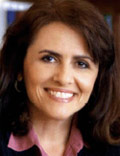 2008 Inductee
Higher Education
Dr. Elsa Murano is proof that The American Dream is still alive – and presiding over Texas' oldest public institution of higher learning. When her family fled Cuba, Elsa was just two; she would eventually become the first woman, first Hispanic-American, and one of the youngest people to be named president of Texas A&M University.

Elsa's family followed her father's work throughout Latin America. Upon moving to Miami at the age of 14, Elsa spoke no English, but enrolled at Miami Coral Park High School, and was a quick study. Her mother's emphasis on education inspired Elsa to earn her high school diploma and continue on to earn her Bachelor of Science in Biological Sciences from Miami's Florida International University. She received her Master's of Science in Anaerobic Microbiology and a Ph.D. in Food Science and Technology at Virginia Polytechnic Institute and State University.

Dr. Murano began her professional career at Iowa State University, moving to Texas A&M's Department of Animal Science in 1995, and eventually serving as director of the Center for Food Safety with the school's Institute of Food Science and Engineering.

In 2001, Dr. Murano was appointed by President George W. Bush to serve as Undersecretary for Food Safety for the U.S. Department of Agriculture. As the country's highest-ranking food safety official, Dr. Murano oversaw the USDA Food Safety Inspection Service and the third-largest beef recall in America's history. The incident spurred Dr. Murano to substantially reform the inspection service; under her leadership, food recalls dramatically decreased.

Dr. Murano subsequently returned to Texas A&M as vice chancellor and dean of Agriculture and Life Sciences, where she helped increase the college's enrollment, and strengthen the school's teaching, research and extension efforts.
Page last updated 11:41 AM, September 7, 2022