Dora Jean Dougherty Strother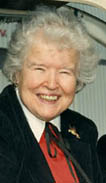 1987 Inductee
Science & Technology
(1921-2013)
Dr. Dora Jean Strother, of Fort Worth, was recognized by her peers as a leader in aviation psychology and aircraft-cockpit systems research and crew station design. Dr. Strother's career spanned a variety of other areas, including the military and education.
During her 28 years at Bell Helicopter/Textron, she built the company's human factor engineering design group into one of the most respected in the industry. In recognition of her work, she was elected fellow status in three technical professional societies: the American Psychological Association, the American Helicopter Society, and the Human Factors Society of America.
After her retirement as manager of Human Factors Engineering and Cockpit Arrangement, she served as technical consultant to the company and as a member of the U.S. Army Science Board.
In addition to her achievements as a human engineer, Dr. Strother earned a reputation as an accomplished pilot, both military and civil. Her flight accomplishments, including two world flight records for rotorcraft, are featured in four aviation museums. The Smithsonian Institute featured her photograph and biography as part of a special feature on women pilots.
Page last updated 4:56 PM, September 7, 2022