Donna Lopiano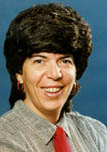 1987 Inductee
Athletics
Dr. Donna Lopiano of Austin, executive director of the Women's Sports Foundation, is a member of the National Sports Hall of Fame and the National Softball Hall of Fame. For 17 years, she served as director of Intercollegiate Athletics for Women at the University of Texas, during which time she constructed what many believe to be the premiere women's athletics program in the country. Dr. Lopiano developed her department from a $57,000 budget in 1975 to nearly $3 million in 1987, while all eight sports she supervised continued to hold national rankings.

The University of Texas enjoyed perhaps its best overall season in 1986-1987, when it was named top women's program in the country for the second consecutive year by Knoxville Journal's all-sports poll. All totaled, Dr. Lopiano's department boasted 12 national championships in five different sports, 30 Southwest Conference championships since 1982 and 159 All-American athletes - dozens among them Olympians and world champions.

Dr. Lopiano's success extended to the classroom. From 1975 until her departure, 95 percent of UT women athletes who completed four years of athletic eligibility received a baccalaureate degree.

An outstanding college athlete and a former All-American athlete, Dr. Lopiano graduated in 1968 from Southern Connecticut State University and received her master's and doctoral degrees from the University of Southern California.
Page last updated 4:21 PM, June 17, 2022