Colonel (Ret) Kim Olson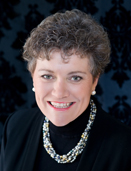 2014 Inductee
Military
Through her trailblazing military service as an aviation leader, commander and patriot Kimberly D. Olson, Colonel (retired) United States Air Force, has reshaped the perception of women serving their country. Today, as she works in the nonprofit sector to transform the lives of female veterans, Olson is a published author who dedicates her book's proceeds to supporting veterans.
Olson's 25 years in uniform encompassed a time of great change. She was part of the first generation of female military pilots, eventually accumulating nearly 4,000 hours of flying time—from instructing in supersonic jets to maneuvering a 300,000-pound multiengine aircraft in combat. As one of the first women to command an operational flying squadron, Olson rose to the rank of Colonel, served in the Pentagon on the Joint Staff, Office of the Secretary of Defense, the Air Staff and deployed to several combat zones, including Iraq.
After her military retirement in 2005, Olson entered the field of public education. By 2007, she was the Director of Human Resources for Dallas Independent School District, the second largest school district in Texas. In that same year she was elected to the Weatherford Independent School District Board of Trustees, which in 2009 was recognized as the Texas Outstanding Board of the Year.
In 2010, Olson began serving in the Texas State Guard (TXSG) as a Colonel leading both the IT and personnel systems at TXSG Headquarters. In this volunteer position, she utilized her expertise to prepare and train the 2,300 all-volunteer military forces to assist state and local authorities in times of natural or manmade disasters.
Today, Olson is CEO/President of Grace After Fire, a Texas-based nonprofit. Since 2010, her team has helped over 5,300 female veterans find employment, access mental and physical health providers, and conduct peer to peer network training. Olson experienced first-hand the human heartbreak that is war and advocates for appropriate research, funding and care for women in the military. She was instrumental in convincing Texas legislators to pass legislation marking March as Women Veteran's Month from 2011 to 2020.
Military women are now critical to the defense of this nation, due in part to Olson's dedication and commitment to equality. Her service, both in and out of the military, is making a difference and leaving a lasting contribution on the great state of Texas.
Page last updated 12:42 PM, May 19, 2022