Clotilde P. Garcia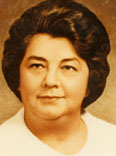 1984 Inductee
Health Professions
(1917-2003)
Dr. Clotilde Garcia of Corpus Christi was one of the first Mexican-American women in Texas to enter the medical profession. She received her bachelor's and master's degrees from the University of Texas at Austin and her doctorate of medicine from the University of Texas School of Medicine in Galveston.
She served as regent of Del Mar College (1960-1982) and on the Executive Committee of Nueces County Antipoverty Program (1970-1973).
From 1960 Dr. Garcia worked with 29 civic and charitable organizations involved in education, historic preservation and emergency food, health and jobs programs. She received the Community Leader of America Award in 1969 and the Outstanding Citizen's Award given by the American G.I. Forum of Texas in 1972.
She wrote and published five books on Hispanic history.
Page last updated 4:18 PM, March 4, 2020