Christina V. Daniels Adair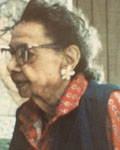 1984 Inductee
Civic & Volunteer Involvement
(1893-1989)
Christia V. Daniels Adair of Houston became the sole administrator of Houston's National Association for the Advancement of Colored People (NAACP) in 1950. She worked with this organization for 25 years prior to her appointment.
During the 12 years she served as NAACP administrator, she championed a court case opening the state's universities to black students and helped minorities achieve equal access to public schools, libraries, transportation and Veteran Administration hospitals.
She founded the first Harris County interracial political group in 1952, the Harris County Democrats.
Ms. Adair was named Woman of the Year in 1952 by Zeta Phi Beta Sorority and, in 1974, was recognized for her suffrage work by the National Organization for Women.
In 1977, she was selected as one of four women in the country to participate in the Black Women Oral History Project sponsored by the Schlesinger Library at the Radcliffe Institute for Advanced Study, Harvard University.
Ms. Adair was an elementary school teacher, a civil rights activist and lifelong leader in the Methodist Church, and she served 20 years as Precinct 25 judge.
She died December 31, 1989.
Page last updated 10:12 AM, February 4, 2020