Carolyn Peterson, FAIA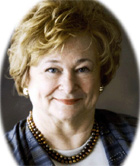 2008 Inductee
Historical Preservation
A preeminent preservation architect, Carolyn Peterson has made Texas' rich cultural heritage more accessible to the public by revitalizing some of our state's most treasured historic landmarks.
Ms. Peterson was educated at Victoria College and The University of Texas at Austin at a time when women rarely were accepted in the field of architecture. Yet in 1964, she was welcomed into the San Antonio-based firm of iconic architect O'Neil Ford, now known as Ford, Powell & Carson. Ms. Peterson became a firm partner in 1979.
Since 1966, Ms. Peterson has designed continual restorations to San Antonio's Spanish missions, and since 1979, the Daughters of the Republic of Texas have engaged her to preserve the historical significance of the Alamo for its more than two million annual visitors.
Ms. Peterson has given new life to the historic courthouses of Bexar, Caldwell, Hays and Maverick counties, and beginning in 1988, served as the architect leading the seven year effort to restore the Texas State Capitol.
Decades of neglect and inappropriate response to changing needs had left the building architecturally diminished and dangerously overcrowded. Ms. Peterson and her team painstakingly worked to match historic photographs and documents, and fulfilled contemporary space, comfort and technological needs, all while maintaining the architectural and historical integrity of the building.
Other important projects benefiting from Ms. Peterson's mastery include participation in the revival of many buildings in Galveston's Strand Historic District, the restoration of San Antonio's San Fernando Cathedral and St. Joseph's Catholic Church, and the revitalization of the Driscoll Villa at Austin's Laguna Gloria.
Ms. Peterson has served as a board member for the San Antonio Conservation Society and the Texas Preservation Trust Fund. Her extraordinary work has earned her induction as a Fellow of the American Institute of Architects, as well as the Fundadores de Misiones medal from the Archdiocese of San Antonio, the Imagineers Award from the Mind Science Foundation and the Texas Historical Commission Award for Preservation of Historic Architecture.
Page last updated 4:27 PM, October 9, 2019