Carol Eggert Dinkins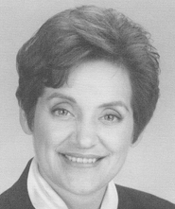 2000 Inductee
Government
Carol Dinkins, a partner with the law firm of Vinson & Elkins in Houston, is a staunch environmentalist and conservationist.
In 1979 Governor Bill Clements appointed Ms. Dinkins chair of the Governor's Task Force on Coastal Zone Management, and in 1981 President Ronald Reagan appointed Ms. Dinkins assistant attorney general of the Environmental and Natural Resources Division of the U.S. Department of Justice. She was the first woman to hold that post.
While at the Justice Department, she was recognized by the American Lawyer as the best litigating chief then in the department. President Reagan later appointed Dinkins deputy attorney general of the United States, which made her the highest-ranking woman ever to serve in law enforcement at that time. As deputy attorney general, Dinkins was responsible for the day-to-day management of the Justice Department's more than 60,000 employees. Appointed to the Texas Parks and Wildlife Commission in 1997, Dinkins is the only commissioner ever to have visited every state park in Texas.
Page last updated 11:26 AM, February 5, 2020