Caro Crawford Brown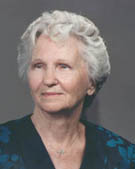 1986 Inductee
Communications
(1908-2001)
Caro Crawford Brown was the first woman journalist in Texas to receive the Pulitzer Prize for local reporting. Her stories in 1955 for the Alice Daily Echo brought decades of corruption and terrorism to an end in Duval County.
For more than 40 years the Parr family had ruled the Duval County political machine. Over a two-year period, while taking care of her family and taking great personal risks, she reported on a complicated series of court inquires into Parr's political affairs. She often had to pay her own hotel and travel expenses and faced bitter local political opposition while covering the story.
In 1955, she was also awarded a citation from the trustees of Columbia University for this series of in-depth news stories. Ms. Brown studied journalism at the Texas Woman's University in 1925.
Page last updated 10:31 AM, February 5, 2020