Bert Kruger Smith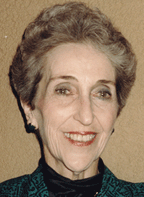 1988 Inductee
Civic Leadership
(1915-2004)
Bert Kruger Smith of Austin served as a special consultant to the Hogg Foundation for Mental Health, University of Texas at Austin, and held Board Member Emeritus status. She was a sought-after resource at the local, state, federal and international levels in human service issues, particularly those concerning the elderly and mental health.

Mrs. Smith wrote numerous articles and seven successful books. Her writings explored creative living and care concepts for elderly persons and insights into the problems of children with learning disabilities and with emotional disturbance. She put her ideas into practice on public and private sector boards and committees by designing, implementing and refining innovative programs.

Mrs. Smith played a major part in ensuring the concerns of Texans were heard and addressed at the 1980 White House Conference on Aging. She volunteered her expertise as an appointee to the State Task Force on Long-Term Care of the Elderly, the Texas Department of Human Service's Advisory Committee on Services to the Aged and Disabled, The State Advisory Council on Weatherization Assistance for Low-Income Persons, and the State Board of Examiners of Psychologists. She was a co-founder, president and driving force behind a 1986 model program called Austin Groups for the Elderly (AGE), an umbrella organization that housed various agencies. The goals of the organization included offering rental space at below market rates, sharing copy and fax machines, and encouraging the organization to work with other providers in collaboration on delivery of services to the Austin community. Through the years this approach allowed organizations such as Hospice Austin, Family Eldercare, Open Door Pre-School and The Alzheimer's Association to begin at the AGE Building, grow, and move on to their own locations. In 2000, Mrs. Smith was awarded the AGE Community Service Award.

A native Texan, Mrs. Smith received her master's degree from the University of Texas and an honorary degree from the University of Missouri.
Page last updated 3:02 PM, June 17, 2022