Barbara Smith Conrad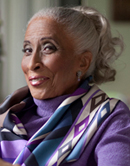 2012 Inductee
Arts & Humanities
(1937-2017)
Barbara Conrad was esteemed for both her impressive operatic career and her inspiring personal story as an emissary of the civil rights movement. Her performing career spanned five decades and four continents, bridging musical genres from the moving spirituals of Hall Johnson to the epic operas of Verdi and Wagner.
The historic launch to Conrad's career came at The University of Texas at Austin, where her dismissal from a bi-racial opera production during the school's first year as an integrated institution sparked a statewide controversy and a national call for civil rights. A 2010 award-winning PBS documentary, When I Rise, captures this momentous incident and chronicles Conrad's life story. She went on to graduate from UT Austin, and continued her studies in New York, sponsored by artist and activist Harry Belafonte and with support from former First Lady Eleanor Roosevelt.
Conrad portrayed Marian Anderson in the 1977 Emmy®-Award-winning ABC film Eleanor and Franklin: The White House Years, and was featured in Live from Lincoln Center telecasts of her Metropolitan Opera performances of Les Troyens with Jessye Norman and Plácido Domingo, and Der Rosenkavalier with Dame Kiri Te Kanawa and Luciano Pavarotti. Conrad's performance as Gertrude in Hamlet with Dame Joan Sutherland was released by London Records. She also performed as Fricka and Waltraute in Wagner's Ring Cycle in Brussels.
Additionally, the mezzo-soprano performed in the world's grandest concert halls, including the Concertgebouw in Amsterdam, the Accademia di Santa Cecilia in Rome, the Royal Albert Hall in London, and Carnegie Hall in New York.
Conrad was invited by President Ronald Reagan to sing at the White House in honor of Lady Bird Johnson's 75th birthday, she sang for Pope John Paul II during his 1995 American tour, and she was especially honored to be part of the 2011 dedication events for the national memorial to Dr. Martin Luther King in Washington, DC.
These illustrious appearances were a long way from Conrad's humble beginnings in the small East Texas town of Center Point. Growing up in a musical family, where her mother and sisters sang and her brother was a piano prodigy, Conrad sang as a child in the Center Point Baptist Church.
UT Austin proclaimed Conrad a Texas Distinguished Alumni in 1985, and in 1993, established the Barbara Smith Conrad Endowed Presidential Scholarship in Fine Arts. In 2009, the 81st Texas Legislature passed a resolution honoring Barbara Smith Conrad, and Conrad received the Texas Medal of Arts Award for Lifetime Achievement and the History-Making Texan Award in 2011.
Page last updated 4:55 PM, September 21, 2021