Barbara Jordan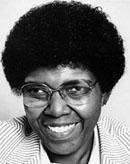 1984 Inductee
Public Service
(1936-1996)
Barbara Jordan was a professor at the Lyndon B. Johnson School of Public Affairs from 1979 to 1996 and holder of the Lyndon B. Johnson Centennial Chair in National Policy at the LBJ School. She received a bachelor's degree from Texas Southern University, a law degree from Boston University, and 25 honorary doctorates.

Ms. Jordan served in the U.S. House of Representatives from the 18th District of Texas from 1972-1978, in the Texas Senate from 1966-1972, and practiced law in Houston from 1960-1966. In Congress, she succeeded in amending the Voting Rights Act to expand its coverage and require the printing of bilingual ballots.

After gaining national attention when she presented the keynote address at the National Democratic Convention, she was selected by Time magazine as one of the Ten Women of the Year for 1976. Other honors include induction into the National Women's Hall of Fame in 1990 and a Presidential Medal of Freedom in 1994.

Her autobiography, Barbara Jordan: A Self-Portrait, written with Shelby Hearon, was published in 1979.

Barbara Jordan died January 17, 1996.
Page last updated 4:54 PM, October 3, 2016