Barbara Bush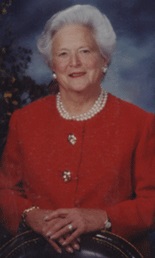 1989 Inductee
Special Achievement Award in Community Service
(1925-2018)
Barbara Bush often joked that her successful life was a result of marrying well. Her husband's service as Vice President and President of the United States offered her a unique opportunity to make a difference in the public eye, but since leaving the White House in 1993, this former First Lady continued to serve others with the same tireless energy, goodwill and good humor that has endeared her to millions around the world.
Throughout her years in public life, Mrs. Bush volunteered in and supported hundreds of charity and humanitarian causes. She continued her service as AmeriCares ambassador-at-large and supporter of various organizations, including the Leukemia Society of America, Ronald McDonald Houses, the Mayo Clinic Foundation and the Boys & Girls Club of America.
Her number one cause, however, was family literacy. In 1990, she helped develop the Barbara Bush Foundation for Family Literacy whose mission is to support the development of family literacy programs; break the intergenerational cycle of illiteracy; and establish literacy as a value in every American family. She served as honorary chair of the Foundation.
Her involvement in the literacy cause did not end with the foundation. She regularly undertook a myriad of projects and a rigorous appearance schedule designed to emphasize reading as a part of daily family life. By visiting literacy programs across the country — in schools, housing projects, organizations and businesses — she witnessed, first hand, the powerful impact reading had on self-esteem and family dynamics.
Page last updated 10:39 AM, February 5, 2020