Anne Corn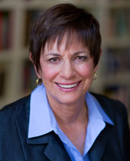 2012 Inductee
Higher Education
Anne Corn, Ed.D., is a visionary within the field of visual disabilities — an educator, researcher and advocate, a creative thinker and dynamic doer, whose groundbreaking contributions have benefitted thousands of blind and visually impaired students and their teachers throughout Texas, across the country and around the world.
A person with low vision herself, Corn has made it her life's work to help people with visual disabilities lead productive and fulfilling lives and to prepare their teachers to provide them with the tools they need. An agent of change, Corn has relentlessly challenged traditional approaches to services for those with visual impairments and blindness, studying and solving problems that had previously been accepted as the norm.
A New York City native with excess energy and a doctorate from Columbia University, Corn came to Texas in 1980 and instantly fell in love with her newly adopted home state. She joined The University of Texas at Austin's Special Education Department, and during her tenure there — among other accomplishments — she: mobilized a team of specialists and educators to deliver low-vision services to sparsely populated areas of the state; helped the Texas Department of Motor Vehicles analyze accidents involving low-vision drivers using bioptic telescopic systems; studied functional vision and literacy; and developed a theory of how visually impaired people use their functional vision — a theory now taught worldwide. Additionally, Corn served as a board member for Prevent Blindness Texas, Austin's Urban Transportation Committee, and the Board of Trustees for the Texas School for the Blind and Visually Impaired.
Corn went on to spend over a decade at Vanderbilt University, where she founded Providing Access to the Visual Environment [PAVE], a comprehensive and globally replicated model for delivering low-vision services to children that gives them greater access to reading materials, improves their reading rates and helps them better use their distance vision.
A frequent speaker at national and international conferences, Corn has traveled to 15 countries and worked with the World Health Organization to form a management plan for children with visual disabilities.
Now a Professor Emerita at Vanderbilt, Corn has returned to the Lone Star State, where she continues to research, publish and problem-solve. And, after a quarter-century of training hundreds of teachers and future professors, she is working to help the next generation of educators understand and advance the experience of people like her — people with low vision who have the potential for impressively high impact.
Page last updated 11:06 AM, February 5, 2020