Anna Maria Farias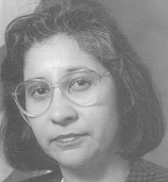 2000 Inductee
Professional Leadership
Anna Maria Farias, Esq., made a hands-on difference in her hometown housing community. Although she was born in San Antonio, Ms. Farias was raised in Piedras Negras, Mexico, where she attended school for three years. Once her family moved back to Texas, Farias graduated from Crystal City High School as valedictorian.
After law school Ms. Farias spent the majority of her career in Washington, D.C., working for two United States Cabinet Secretaries under President Ronald Reagan and President George Bush.
Ms. Farias returned to her hometown of Crystal City in 1993 as executive director of the Crystal City Housing Authority and as an advocate for housing residents. She made reform in the areas of education, security, safety, child-care and landscaping her top priority. In 2001, Ms. Farias was appointed to the Texas Commission on Human Rights.
Ms. Farias was the recipient of National Resident Honors for being the only executive director in the country to actually live in the housing projects. Through her work in the Housing Authority, she won 13 National Awards of Merit. She was instrumental in working with One Strike You Are Out, Welfare to Work and Community Service programs in the housing developments. She is also one of the original founders of the Hispanic Youth Foundation, which gives scholarships to promising Hispanics majoring in government.
Page last updated 10:12 AM, March 4, 2020