Ann Williams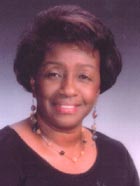 2002 Inductee
Arts
Ann Williams was the first African-American to earn a master of arts degree in dance in Texas. As a young girl she never saw an African-American dancer, but despite the lack of an early role model in her life she worked hard to cultivate her passion for dance and become a strong role model herself.
She founded and is artistic director of the Dallas Black Dance Theatre. The company celebrated its 25th anniversary season in 2002, making it Dallas' oldest, continuously operating professional dance company.
The Dallas Black Dance Theatre grew from a modest beginning in 1975 to a dance company that performed at the 1996 Atlanta Olympics, the Kennedy Center, on Broadway and in Europe, Africa and South America. Ms. Williams' company gives back to the community by participating in youth education programs that benefit 40,000 youth each year.
Ms. Williams and the Dallas Black Dance Theatre provide encouragement and opportunities for budding young artists. Her Summer Youth Enrichment Camp features motivational talks by community leaders and activities that build self-esteem and self-discipline, qualities Ms. Williams believes carry over into the classroom. As she once said, "If you can give young people the opportunity to discover their strengths, they will go places they never thought they could go."
She is a graduate of Prairie View A&M University, holds a master of arts degree in dance from Texas Woman's University, a certificate of arts management from Texas A&M University and an honorary doctorate of humanities from Northwood University.
Page last updated 5:00 PM, October 9, 2019