Ann Stuart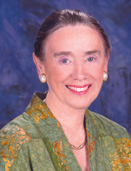 2014 Inductee
Education
Ann Stuart personifies the American dream that education is access to opportunity. She was born into a middle-class family of loving parents who were determined to make a college education possible for their only child. She fulfilled their hopes, completing her bachelor's degree in Education at the University of Florida, her master's in English at the University of Kentucky, and her Ph.D. in English at Southern Illinois University. Dr. Stuart began her teaching career as a middle school teacher, then taught high school, later becoming a tenured professor of English at the university level. Her administrative career began as dean of Arts and Sciences at East Stroudsburg University in Pennsylvania. She went on to become provost and vice president of Academic Affairs at Alma College in Michigan and then president of Rensselaer Polytechnic Institute's Graduate School in Connecticut.

Stuart was named chancellor and president of Texas Woman's University (TWU) in 1999. Under her transformational leadership, enrollment grew by 85 percent; TWU produced more than 20,000 graduates in critical fields, and the university received national recognition for its quality, value and diversity. Chancellor Stuart raised more than $220 million for facilities, scholarships and faculty development and led the implementation of advanced technology and teaching tools that mirror the workplace and improve learning.

Chancellor Stuart will also leave a lasting legacy to TWU as a private citizen. To honor the memory of her late husband Ray Poliakoff, and their shared commitment to education, she has provided funding for scholarships to undergraduate students. Furthermore, Dr. Stuart has provided a funding commitment of 20 years for each of two annual events: one, The Ann Stuart and Ray R. Poliakoff Celebration of Science Series which celebrates the wonders, truths and mysteries of science and two, the Chancellor's Alumni Excellence Award which brings exceptional alumni back to the university to share career achievements reflecting the excellence of the university.

Again as a private citizen, Chancellor Stuart provided funds for a courtyard garden at the Dallas Arboretum and Botanical Garden. She has made a multi-year commitment to a dog therapy program at Baylor Scott & White Health as well as an animal nutrition program at the Dallas Zoo.

Chancellor Stuart improved the institution she led while at the same time contributing to the larger discussion of improving higher education in the state of Texas. Through board appointments, legislative and Coordinating Board involvement and workforce impact, her service significantly and dramatically benefitted the state of Texas. Her contributions to Texas as a private citizen represent an extraordinary level of commitment to our great state.
Page last updated 11:45 AM, September 7, 2022