Amanda Dunbar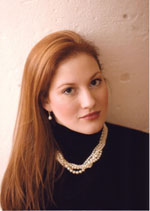 2006 Inductee
Arts
When Amanda Dunbar enrolled in an after-school art class at 13, she never expected it would lead to two appearances on The Oprah Winfrey Show, million-dollar commissions, or help for thousands of children nationwide. But from the moment Ms. Dunbar picked up a paintbrush for the first time and created the portrait "Mother's Touch," everything about Amanda Dunbar's amazing talent, incredible career and inspirational generosity has exceeded expectations.
Born in Canada, Dunbar moved with her family to Allen, Texas, at the age of 12. A year later, she discovered her natural-born gift, and began painting in earnest. By 16, Dunbar had several sell-out art exhibitions and an understanding that her art could help people. Following the Columbine tragedy, Dunbar created the painted image "Angel Alliance" to symbolize her belief that all humans are spiritually connected. She then decided to also create a charity called Amanda's Angel Alliance, intended to empower young people to express themselves through the arts, rather than through violence. Ms. Dunbar's Angel Alliance uses its contributions — more than $500,000 to date — to support schools' and youth programs' curriculum and purchase art materials, so they can offer children the opportunity to express themselves through art.
Additionally, Dunbar works extensively on behalf of other charitable organizations. As an ambassador for the National Center for Missing and Exploited Children, Dunbar has advocated for young victims of abduction and sexual exploitation and has helped raise awareness and support of the organization. She also contributed her painting, "The Sprinkler," which the Center chose to represent the group's annual Hope Awards and Congressional Breakfast honoring exceptional law-enforcement teams and their efforts on behalf of children. Dunbar has worked for five years with Wednesday's Child, helping raise almost $200,000 to improve the lives of thousands of Texas foster children. She also helped the Texas Medical Association Foundation reach a new fundraising record at its Be Wise — Immunize campaign gala; with her donation of a specially commissioned painting, Dunbar helped provide important immunizations for 27,000 Texas children.
Following the tragic events of September 11, 2001, Ms. Dunbar became a naturalized U.S. citizen. She created "9/11 M.I.A.," and released a print of the painting to her Gift That Gives Back program, which benefits the heroes of September 11th and her Angel Alliance. Proceeds went toward youth antiviolence efforts, and for every print sold, a sister print was given to the fire, police, EMS or hospital of the buyer's choice.
Dunbar holds a bachelor of Fine Arts degree in art history from Southern Methodist University, graduating cum laude with honors and distinction. She has studied in Italy, France, Brazil and Fiji. Ms. Dunbar has sold millions of dollars' worth of her art, and has donated more than a half-million dollars through her paintings.
Ultimately, Amanda Dunbar paints what matters to people, and is helping children here in Texas and across the country understand that they are important, and to see their potential through the inspiration, tools and role modeling she provides.
Page last updated 11:32 AM, February 5, 2020