Alicia R. Chacón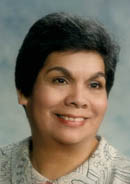 1986 Inductee
Volunteerism
Alicia Chacón was the first Mexican-American woman to be elected as a city council representative in El Paso where she served starting in 1983. Ms. Chacón was president of La Tapatia, Inc., and director of the El Paso Federal Savings and Loan Association.
In 1978, she was appointed by President Jimmy Carter to serve as regional director of the Small Business Administration. Ms. Chacón was the first woman to serve in that capacity. That same year, she was one of 100 Americans appointed by Secretary of State Cyrus Vance to the United States Commission to the United Nations Educational, Scientific and Cultural Organization (UNESCO). In 1974, she became the first woman elected county clerk of El Paso.
She has been an active volunteer at the local, state and national levels of many organizations, and her volunteer service extends to 25 boards and committees. These include PTA, Counseling Services of El Paso County, Family Services of El Paso and the Trinity Coalition, El Paso County and El Paso City Parks and Recreation Board, Ysleta Boys Clubs, and Partners in Pluralism Task Force of the El Paso National Conference of Christians and Jews.
She also served on the board of the El Paso Center for Mental Health and Mental Retardation. She served as president of the West Texas Council of Governments and was also on the boards of Leadership El Paso and the El Paso Armed Services YMCA.
Page last updated 10:50 AM, February 5, 2020