Ada Simond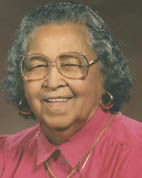 1986 Inductee
Civic Leadership
(1903–1989)
Ada Simond, an Austin writer, historian and educator, helped the black community in Travis and 27 other Texas counties for more than four decades through her work in health education, and her writings have preserved their heritage.

Ms. Simond's six-book series, Let's Pretend, traces the life of a young black girl and her East Austin family in the first half of the 20th century. She published a collection of her newspaper columns titled Looking Back.

After retiring Ms. Simond developed oral history projects that teach young people in Central Texas how to preserve their heritage.

From 1942-1966, she was a field representative for the Texas Tuberculosis Association and helped to establish model public heath programs and tuberculosis prevention programs implemented throughout the state. For 65 years, Ms. Simond spoke to many young audiences across the State of Texas on the need to stay in school to finish their education. In the 1950s and 1960s, she directed summer health education workshops for teachers in the seven black colleges of Texas.

Between 1936 and 1942 she taught at Tillotson College. Ms. Simond holds a master's degree in vocational home economics from Iowa State University. In 1982, she was conferred a doctor of humane letters degree from Huston-Tillotson College. Some of the numerous awards she received are The Black Heritage Award from the Austin Independent School District, the Texas Association for the Study of Afro-American Life and History Award, the Public Citizen of 1986 Award from the National Association of Social Workers and the Human Relations Award from the Texas State Teachers Association.

She was a lifetime member of the National Association for the Advancement of Colored People and the National Council of Negro Women.

Ada Simond died in 1989.
Page last updated 4:23 PM, June 16, 2022