Student parents find helpful resources, support at TWU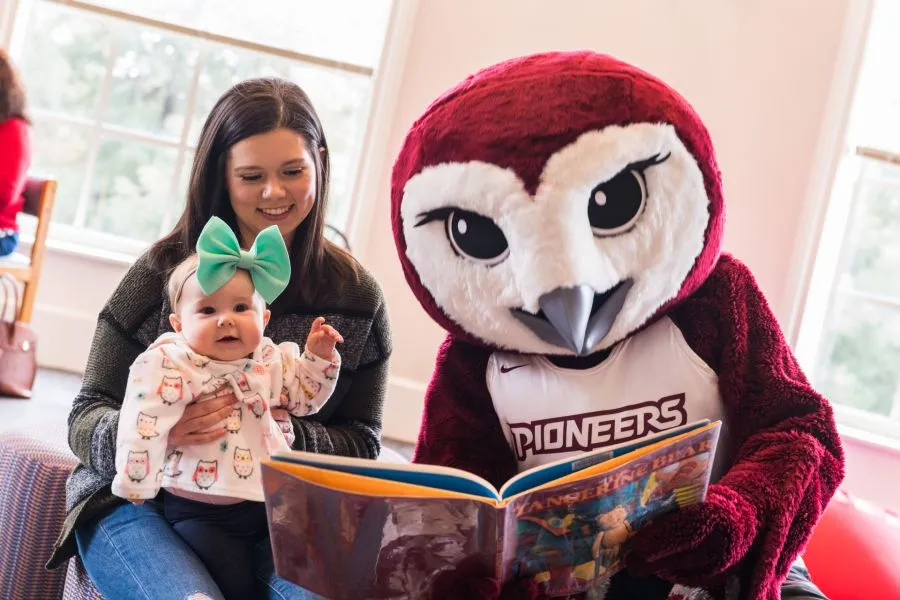 Tristen King, TWU student and single mom, and her daughter Oakley enjoy some one-on-one time with TWU's mascot, also named Oakley, in the children's collection at the Blagg-Huey Library.
Feb. 26, 2020 — DENTON — Raising kids while juggling the demands of a college education often complicates matters for families, but resources at Texas Woman's provide student parents with a much needed boost.
According to BestColleges.com, Texas Woman's is No. 1 in the nation among public universities as one of the best colleges for students with children, and TheBestColleges.org ranks TWU No. 4 in its listing of top colleges for single parents. Several factors contribute to the rankings.
The university provides family housing options, and student parents often cite programs through the Campus Alliance for Resource Education (CARE) Office as being a tremendous benefit. CARE helps them secure holiday gifts for their children, coordinates campus lactation spaces, organizes family graduation and connects students with a variety of resources, including child care and each other through a student parent organization.
When Tristen King started at TWU, she was a care-free transfer student considering a degree in nursing. Now the single mother of 7-month old Oakley is taking classes online and focusing on setting a good example for her daughter.
The new mother's first introduction to CARE was through the holiday gift program, but she expects she will need assistance with child care when Oakley gets a little older. "I quit my job because I was making just enough to pay for child care," said King, "but I feel so supported at TWU."
As part of its efforts to meet the child care needs of student parents, CARE has been working with the Lumina Foundation to implement the Family Friendly Campus Toolkit: Using Data to Improve Outcomes. Because of the new data, TWU recently won a CCAMPIS grant to fund on-campus child care.
"We know that our student parents are driven to complete college not only for themselves, but also for their children," said Amy O'Keefe, executive director of CARE. "Our funding through the CCAMPIS grant enables us to help them overcome those child care barriers that can derail their education."
As for King, she says she named her daughter after Annie Oakley because she was a strong female role model. Now she thinks TWU will help her be that example for her daughter as well, and it's a fun coincidence that the TWU mascot is also named Oakley.
"I want to show Oakley that anything is possible, and I think TWU will help me do just that," said King.
###
Page last updated 10:51 AM, March 2, 2023