Winter 2014 Issue
Literacy Matters Cohort Launches Web Presence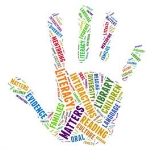 The Literacy Matters: Educating Librarians to Serve Families with Young Children project cohort launched their web presence. These eighteen Master's students are supported by a federally funded Institute of Museum and Library Services grant. The Literacy Matters wiki includes students' portfolios in which they share their passion for family literacy and examples of their course projects. The web site is intended as a showcase for the project and will evolve as students add content that represents various aspects of their preparation for service as public library children's and family services librarians. Please visit the Literacy Matters wiki and follow the students' progress.
1/31/14
Dr. Ling Hwey Jeng was honored by the Association for Library and Information Science Education (ALISE) with its 2014 Award for Professional Contribution to Library and Information Science Education.
Alumni News
Sue Ridnour, New Director of the Flower Mound Public Library
Sue Ridnour, the new Director of the Flower Mound Public Library, thought she would never be a librarian when she was a teenager. Her unusual path from law libraries to public library services, from adult services to children's and youth service coordination to library management, gave her the customer service perspective she values in new librarians. She is a 1987 MLS graduate. More about "Sue Ridnour, New Director of the Flower Mound Public Library".
Peace Ossom Williamson, 2012-2014 ARL Diversity Scholar
Peace Ossom Williamson, 2013 MLS graduate, was selected as a 2012-2014 Diversity Scholar in the Association of Research Libraries (ARL) Initiative to Recruit a Diverse Workforce (IRDW) program. She shares about her experience as a Diversity Scholar. More about "Peace Ossom Williamson, 2012-2014 ARL Diversity Scholar".
Alumna Profile: Sian Brannon
Dr. Sian Brannon, May 2013 PhD graduate, is having a very productive year. More about "Alumna Profile: Sian Brannon".
Alumni News
Betsy Bowers Aldridge, 1992 PhD graduate, completed her 2-year tenure as Treasurer for the Transportation Division of the Special Libraries Association. She is the Senior Research Specialist/Library Team Lead at the Technical Library for PACCAR Inc. Next year, she will be celebrating 20 years at the PACCAR Technical Center.
Kimberly Ball, 2012 MLS graduate, received a promotion from her position of Library Assistant. As of October 1st, she became the Technical Services Supervisor at the Longview Public Library, located in Longview, Texas. Congrats to Kim!
Stephany Compton, Distance Learning Support Librarian at the Blagg-Huey Library on the TWU Denton campus, and MLS graduate, has been selected as the recipient of the TWU Elizabeth Snapp Award for Excellence in Librarianship. Stephany was commended for her work in assisting faculty in the design of assignments for online courses, her support of SLIS students during the Fall Forum and the SLIS Doctoral Student orientations, amongst her many other contributions and accomplishments. Stephany will receive a $500 award as well as a plaque commemorating her selection as the 2013 Elizabeth Snapp Award recipient.
Valerie Hill, 2007 MLS graduate and 2012 PhD graduate, has published a book chapter and made several presentations. Her book chapter is "The Adoption of Virtual Media and Virtual Worlds by Librarians," in Advances in Library Administration and Organization, vol. 31, edited by Delmus E. Williams and Janine Golden (SLIS Associate Professor), Emerald Group Publishing Limited, 2012, pp.89-119.
Valerie's recent presentations include:
ALISE 2013 Teaching SIG in Seattle, WA, on "Librarianship Embraces Virtual Media Based on Adult Learning Theory"
San Jose State University School of Library and Information Science VCARA Conference 2013, keynote speaker on "Virtual Worlds: Immersive Learning and MOOCs"
2 programs at the TLA 2013 Annual Conference in Fort Worth: 1) panelist with Terri Gibbs, Greg Hardin, and Janelle Hedstrom, on "Building Your Professional Career With Networking;" and 2) panelist with April Aultman Becker, Denise Chochrek, Angela Colmenares, Colbe Galston, Zoe Midler, and Amanda Pape, on "Embedded Librarianship: The Good, Bad, and Ugly"
4 programs at ALA 2013 in Chicago: 1) "3D Virtual Museums and Library Exhibits Promote International Information Literacy" at the International Round Table Preconference; 2) panelist with three other librarians on "Massive Open Online Courses (MOOCs);" 3) conference ignite session, "Imperative Social Networking;" and 4) research poster called "Global Information Literacy Moves Toward Web 3.0"
2013 VWBPE Conference (Virtual Worlds Best Practices in Education) panel, organized an international presentation on "Global Connectivity Through Implementing Virtual Worlds Across Time, Space, and Age," with Daniel Patterson, Adriana Sanchez, Liz Dorland, Bruce Gross, and Renne Brock-Richmond
Rebekah Lee, 2011 MLS graduate, recently accepted an academic position with East Williamson County Higher Education Center in Hutto, Texas.
Maria Manigbas, 2007 MLS graduate, is currently a Children's and Youth Services Librarian at Ridgefield Public Library in New Jersey, a member of the Bergen County Cooperative Library System, a consortium of 74 libraries in Northern New Jersey.
Courtney Mlinar, 2006 MLS graduate, began a new position as the Head Librarian for Austin Community College, Elgin Campus, in August 2013.
Matthew Riley, 2008 MLS graduate, was recently promoted to Assistant Director of the Friendswood Public Library, after working as a Reference Librarian since before graduation.
Sarah Sutton, 2011 PhD graduate, chaired the Core Competencies Task Force (CCTF) of the North American Serials Interest Group (NASIG). The competencies approved and adopted by the NASIG Board in July 2013, "Core Competencies for Electronic Resources Librarians," stem from Dr. Sutton's 2011 doctoral dissertation, "Core Competencies for Electronic Resources Librarians in the 21st Century." Dr. Sutton is currently a faculty member at Emporia State University in the School of Library and Information Management program.
Faculty Accomplishments
Dr. Lynn Akin received the 2013 COPE Outstanding Faculty Award for Student Sponsor. She also presented at the 2014 Hawaii International Conference on Education, January 5-8, 2014, in Honolulu, Hawaii.
Dr. Janine Golden has received both tenure and a promotion to Associate Professor. She was elected as a member of the TWU Faculty Senate Administrator Evaluations Committee and has been elected as TWU SLIS Faculty Planning & Assessment Committee Chair for 2013-2014. Dr. Golden has been invited to serve on the TWU Compensation Inequalities Task Force for Spring 2014 and has been invited to serve as a TWU North Texas Federation for Area Universities Library Science Committee Member for 2013-2014.
Dr. Gretchen Hoffman presented a research paper, called "How are cookbooks classified in libraries? An examination of LCSH and LCC," at the fourth North American Symposium on Knowledge Organization, held in Milwaukee, WI, on June 13-14, 2013. Dr. Hoffman was elected Alternate Councilor for the Cataloging and Metadata Round Table of the Texas Library Association.
Dr. Eileen McElrath and Susan Sutherland (2013 MLS graduate) presented their research, entitled "Environmental Sustainability and Libraries," at the TWU 2013 Student Creative Arts & Re­search Symposium in Denton, TX, on April 16, 2013. Dr. McElrath completed a two-year term as a member on the 2013 Texas Library Association Annual Conference Planning Committee in April 2013. Dr. McElrath facilitated and introduced Dr. Paula Ann Hughes, TWU Professor Emerita and former Director of the School of Management, at her presentation, "The Challenges of Change," at the 2013 Texas Library Association Annual Conference in Fort Worth, Texas, on April 25, 2013.
Dr. Judi Moreillon's book, Coteaching Reading Comprehension Strategies in Elementary School Libraries: Maximizing Your Impact, was published in June 2013 (ALA Editions). This book is a revision of her first professional book, Collaborative Strategies for Teaching Reading Comprehension: Maximizing Your Impact(2007). Her third picture book, Ready and Waiting for You, was released by Eerdmans Books for Young Readers in August.
Dr. Moreillon published two chapters in this period: "Preparing Stakeholders for the School Librarian's Instructional Partnership Role: Whose Responsibility Is It?" in Collaborative Models for Librarian and Teacher Partnerships, edited by Kathryn Kennedy and Lucy Green (IGI Global, 2013); and "A Content Analysis of School Library Conferences: A Search for Empowering Professional Development," in School Libraries Matter: Views from Research, edited by Mirah Dow (Libraries Unlimited, 2013). Dr. Moreillon also published "Building Bridges for Global Understanding: Cultural Literature Collection Development and Programming" in the fall issue of Children & Libraries.
With Dr. Jennifer Richey, SLIS doctoral student Ruth Nicole Hall, and several teachers from nearby school districts, Dr. Moreillon co-presented, "What Every Preservice Classroom Teacher Candidate Should Know about Working with the School Librarian," for 114 TWU COPE preservice classroom teacher candidates. The 3-hour workshop was held on the Denton campus in September.
Along with SLIS doctoral student Ruth Nicole Hall, Dr. Moreillon co-presented a poster session, "Digital Advocacy Stories: A Pedagogical Tool for Communicating and Strengthening Library Values," at the TWU Online Educator Symposium also held on the Denton campus in August.
Dr. Moreillon presented a keynote speech and a concurrent session at the Pennsylvania School Librarians Association in May. She presented a keynote and Webinar for Houston ISD and a keynote conversation and half-day workshop for Fort Bend ISD librarians in August. Dr. Moreillon presented "Leading with Learning for Life: Using the AASL Framework to Build a Pivotal Literacy Program" at the Texas Library Association Conference in Fort Worth in April 2013. She also co-presented "P-20 Vertical Alignment for Research" with the Denton Inquiry 4 Life Long Learning Team.
Dr. Moreillon published one book review, The Herd Boy by Niki Daly, in the Worlds of Worlds (WOW) Review; and along with Janelle Mathis, a children's literature professor at the University of North Texas, she published a series of four reviews on the WOW My Take/Your Take book dialogues.
Dr. Moreillon continues to publish the Quick Remedies column in School Library Monthly and continues her service as the chair of the editorial board for Knowledge Quest, the journal of the American Association of School Librarians. She continues to serve on the Denton Inquiry 4 Lifelong Learning inter-institutional initiative and the Texas Learning4Life Implementation Team, 2009-2014, including co-chairing the lesson plan peer-review committee for the TEKS-AASL Standards Alignment project: http://teksalign.pbworks.com/.
Dr. Carol Perryman presented a pre-conference workshop on "Evidence-based Librarianship," at the TLA Annual Conference, on April 24, 2013. Dr. Perryman also published a review in 2013, entitled "For non-expert clinical searches, Google Scholar results are older with higher impact, while PubMed results offer more breadth," in Evidence Based Library and Information Practice, 8(2): 251-253. The review is of Nourbakhsh, Eva, Rebecca Nugent, Helen Wang, et al. "Medical literature searches: A comparison of PubMed and Google Scholar." Health Information & Libraries Journal 29.(2012): 214-222.
Dr. Sylvia Vardell chaired Rose Brock's dissertation committee. Rose successfully defended her dissertation, "Audiobooks and Attitudes: An Examination of School Librarians' Perspectives." Also, Dr. Vardell published, "Talking with Carmen T. Bernier-Grand," in Book Links, September 2013, 23 (1), 20-25. She presented with Janet Wong at the ALA Annual Convention on "Celebrating Poetry Fridays & Common Core Curriculum Connections," in Chicago, IL, in June 2013.
Student News
Elizabeth Hollenbeck, Summer 2013 Dance Heritage Coalition (DHC) Fellow
Elizabeth Hollenbeck, MLS student, was selected as a summer 2013 DHC Fellow. She shares about her fellowship experiences. More about "Elizabeth Hollenbeck, Summer 2013 Dance Heritage Coalition (DHC) Fellow".
Student News
Cynthia Alaniz, MLS student, was selected to participate in the prestigious Morris Seminar sponsored by the Association for Library Service to Children (ALSC), held prior to the ALA Midwinter conference in Philadelphia in January 2014. Also, congratulations to Cynthia for being a finalist for Edublog's Best Individual Blog 2013! According to the Edgublog web site, "The purpose of the Edublog awards is promote and demonstrate the educational values of these social media" (Edublog, 2013). Cynthia's blog is titled "Librarian in Cute Shoes."
Elena Baeza, MLS student, was awarded one of the 2013-2014 American Library Association's (ALA) Office for Diversity Spectrum Scholarships on June 25, 2013.
Liana Morales, MLS student, has been selected to represent TWU SLIS as part of the 2014 ALA Student to Staff Program at the ALA Annual Conference in Las Vegas in June.
Page last updated 9:25 AM, November 3, 2021