Spring 2015 Issue
"My Role is to Engage, Enlighten, and Excite," Profiling Alumna Ms. Kimberly M. Gay

As the department manager, "my role is to engage, enlighten and excite reference services to a staff of reference librarians and student workers," says Ms. Kimberly M. Gay, MLS 2006, who was recently promoted to Head of Reference and Information Services at the John B. Coleman Library of Prairie View A&M University. Prior to her promotion, she was the Reference and Instruction Librarian at the John B. Coleman Library.
To do so, Kimberly has introduced several new initiatives at the Coleman Library, including its hosting of "tailor-made training webinars for faculty and staff covering library services and research skills;" providing new structured training sessions in the fall and spring semesters for all library student workers; and adding a new in-house Reference Instruction area equipped with laptops for students to use during instruction sessions led by reference librarians.
The best practices in an academic library information literacy and instruction setting, according to Kimberly, are to "promote life-long learning and build bridges to students' educational needs through innovation in technology and pedagogy skills. Successful strategies can engage students in online tutorials, online and print LibGuides, smartphone interactions, apps, MP3 journal articles, and embedded eCourse information literacy instructions. Libraries must continuously assess the values of these practices to ensure students are in active learning techniques that strengthen their life-long learning skills to think critically."
Kimberly is an active member of the Texas Library Association (TLA) and the American Library Association. She makes presentations at TLA on a regular basis, and she was recently elected as the TLA Academic Representative-At-Large. Congratulations to Kimberly on her new position!
Student Danelle Jefson Benefits from "Grow Your Own Librarian" Program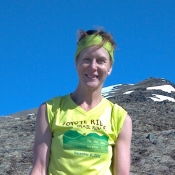 SLIS student, Ms. Danelle Jefson, lives in Alaska, where she teaches at the middle school in Chugiak, the northernmost school in the Anchorage School District. She began the MLS program in January 2015, and just two weeks later, the librarian position at her school became available when the librarian suddenly moved out of state. Because the district has a shortage of librarians, she was hired as the school librarian via the Grow Your Own Librarian (GRYOL) training program that allows an individual with a teaching credential, who is currently enrolled in a master's or librarian certificate program, to be considered for employment as a librarian while they continue with their coursework.
As a resident of Alaska, Danelle is grateful for the online program at TWU SLIS. "My interest in Library Science was rekindled," she said, "when I ran into two former colleagues who moved from classroom instruction to the library, where they interact with kids and teachers, helping both. That really has great appeal to me."
Danelle has lived in Alaska for 20 years and cannot imagine living anywhere else. She is originally from New York State and has lived in North Carolina and California. She moved to Alaska after watching a Discovery Channel special on Alaska, "before every facet of Alaskan life has become a TV series!" Her hobbies include trail running with her two sled dogs, reading (when she's not taking classes), and spending time on the ocean.
Ileana Lopez-Jimenez on De-Stressing to Keep a Balanced Life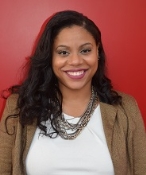 SLIS welcomes our new Academic Advisor II, Ms. Ileana Lopez-Jimenez. Ileana comes to us from the TWU Admissions Office. Prior to that, she attended the University of Houston and graduated with a BBA in Management and a minor in Marketing. She is currently pursuing the MBA at the University of Dallas. With a passion to help students reach their higher education goals, Ileana has worked in the areas of admissions, recruitment, and academics for the last 3 years.
Ileana relates to SLIS students because she knows how difficult it is to work full time and pursue a degree. She stresses the importance of time management and said, "I really had to set a plan for studying and completing assignments on a weekly basis as well as devote all of my weekends to catching up on work. Taking time to de-stress has helped me not get overwhelmed, so I give myself one day a week to do something I love and get my mind off all the work."
Ileana is originally from Puerto Rico and moved to Texas in 1995. She still feels like Puerto Rico is "home" and goes back to visit twice a year. On a personal note, Ileana is an avid reader, who likes fantasy, sci-fi, dystopian, and action & adventure books. She also likes to travel and tries to go somewhere new at least twice a year. Last year, she went to Indianapolis, NYC (three times), Atlantic City, Las Vegas, Houston, Bastrop, The Valley and South Padre Island, El Paso, and Puerto Rico (twice)!
Library Science Alumni Network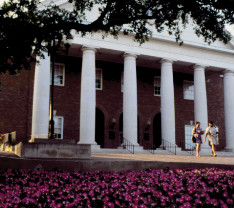 The new Library Science Alumni Network received a great response at TLA 2015 in Austin! We collected over 100 names of interested alumni, who shared their ideas about how they'd like to stay connected. Things we're working on now include:
Developing criteria and applications for two Alumni Awards
Planning an all-classes reunion picnic on the Denton campus this summer
Establishing a group of mentors and geographical contacts for our newly admitted students
Starting our own Facebook page for an easy way to connect and distribute information
Emails will be going out soon. Any interested alumni, who haven't already done so, can contact Kelly Meyer at kmeyer2@twu.edu.
SLIS Students at the TLA Exhibit Booth
Dr. Gretchen Hoffman with Amy Fish
Paloma Lenz
Christine Swenty with MaryAnn Kitchens
Tammi Powell with MaryAnn Kitchens (SLIS Practicum Coordinator)
Emily Rausa
Susie Groff
Alumni at TLA
Liseth Martin (MLS 2012) with Dr. Evelyn Curry
Amber Seely (MLS 2005)
2009 MLS
Kelly Meyer (MLS 2013) with Carolyn McNeil (1955 graduate)
Dr. Aaron Elkins with Cari Montgomery (Spring 2015 MLS graduate)
Graduates of the PELSC (Professional Education for Librarians in Small Communities) grant cohort attended the SLIS Reception at TLA in Austin.
From the left: Sarah Merrill (SLIS Assessment Officer), Dorothy Steelman (PELSC), Dr. Ling Hwey Jeng (SLIS Director), Marilu Chavez (PELSC), Courtney Kincaid (PELSC), Belinda Casanova (PELSC), MaryAnn Kitchens (SLIS Practicum Coordinator), and Dr. Hyuk-Jin Lee (SLIS Associate Professor)
SLIS Adjunct Professor, Ms. Bev Golden
New SLIS Faculty Member: Dr. Aaron Elkins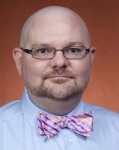 The School welcomes Dr. Aaron J. Elkins, who joined the faculty in Fall 2014 as an Assistant Professor. He earned his Ph.D. in Library and Information Studies from Florida State University, and an M.A. in Library and Information Science and a B.S. in Environmental Science and Policy from the University of South Florida. Dr. Elkins served as a school librarian for ten years, during which time he achieved National Board Certification in Library/Media. His research interests include the roles of school librarians and how their performance is evaluated, students' access to materials, and how gaming enhances 21st Century Literacies.
When asked about future trends in school librarianship, Dr. Elkins says, "the profession of school librarianship is, in some ways, experiencing a metamorphosis similar to that a caterpillar undergoes to become a butterfly: the dawn of the information age began our transformation, and we have emerged from the chrysalis of Web 2.0, and are now preparing to spread our wings and soar, by elevating the level of instructional practice in our schools and serving the needs of our learning communities as they strive to develop multiple literacies."
Retirement of Dr. Keith Swigger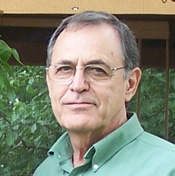 Dr. Keith Swigger, SLIS Professor, retired from his position in January 2015 after serving the university for over 33 years. Dr. Swigger began his career at TWU as an Assistant Professor in 1981; he was promoted to Associate Professor in 1985 and Professor in 1989. He was appointed Interim Dean of SLIS from 1991-1992, after which he served as the Dean of SLIS from 1992-2000 and the Director from 2001-2002, when the School became part of the College of Professional Education (COPE). He later served as the Dean of COPE from 2000-2003, and he completed his tenure at TWU as a Professor in SLIS from 2003-2015.
Among his accomplishments, Dr. Swigger helped to create one of the first graduate distance learning degrees approved in the State of Texas. He raised more than $1,000,000 in grants and gifts for TWU. He was the architect of three major curriculum revisions at SLIS and directed 23 doctoral dissertations, making him the 16th most productive dissertation director among all Library and Information Science (LIS) professors. Dr. Swigger has published one book and is working on another book. He published 37 articles and book chapters and 26 books reviews, and he has given over 70 presentations.
The School wishes Dr. Swigger all the best in his retirement and appreciates his many years of service at TWU!
Faculty Accomplishments
Dr. Lynn Akin published an article, "Bridges Over Transactional Waters," in Academic Exchange Quarterly (AEQ), vol. 18, issue 2, Summer 2014. This article was also featured as an "Editors' Choice" for Summer 2014 in the online version of AEQ.
Dr. Gretchen Hoffman made a presentation at the 2015 Association for Library and Information Science Education (ALISE) conference, "Understanding the Elements that Help Students Learn Cataloging: A Research Study." She also presented at the ALA 2015 Midwinter conference as part of a panel on "Educating Catalogers: The State of the Art." This session focused on the state of cataloging and metadata education, cataloging course content, balancing of theory and practice, and pedagogical approaches.
Dr. Ling Hwey Jeng presented a workshop, "Non-Profit Governance: Policies and Planning," at the 2015 American Library Association Mid-Winter Conference in Chicago, Illinois, on January 30, 2015.
Dr. Hyuk-Jin Lee wrote a paper with Valerie Hill (SLIS 2012 Ph.D. graduate), which was accepted for publication and presentation: "Now and Future of Virtual Libraries and Education in Second Life based on Diffusion Theory," in The International Journal of Communication and Linguistic Studies.
Dr. Eileen McElrath is serving as a University Library Advisory Committee co-coordinator of the Award Process for the 2015 TWU Award for Outstanding Services to the TWU Libraries. She also attended the 2014 University of North Texas and Texas Woman's University Digital Frontiers Conference in Denton, Texas, September 18-19, 2014.
Dr. Judi Moreillon had several publications and presentations, among her other accomplishments:
In August 2014, Dr. Moreillon presented "Increasing Interactivity in the Online Teaching Environment" at TWU's annual Teaching and Learning Symposium. She also provided back-to-school in-service workshops focused on co-teaching reading comprehension strategies for preK-12 school librarians in two districts: Amarillo and Northwest ISDs.
Her picture book, Ready and Waiting for You (Eerdmans Books for Young Readers, 2015), earned a place on the 2014 Bank Street College Best Books for Children under 5.
She presented "Shared Storytelling: Shaping Early Childhood Literacy through Stories," a workshop at the Billie J. Askew Reading Recovery and K-6 Literacy Institute in November 2014 in Dallas.
Dr. Moreillon published "Inquiry Learning and Reading Comprehension Strategy Instruction: Processes that Go Hand in Hand" for the November/December 2014 "Inquiry" issue of Knowledge Quest.
She published one book review in this period: Tua and the Elephant by R.P. Harris, illustrated by Taeeun Yoo in WOW (Worlds of Words) Review 7(1).
In January, 2015, Dr. Moreillon began her term of service as the chair of the Advisory Board for Children and Libraries, the journal of the Association for Library Services to Children.
Dr. Moreillon continues to publish the Quick Remedies column in School Library Monthly. In addition, she continues to serve on the Texas Learning4Life Implementation Team, 2009-2015, including co-chairing the lesson plan peer-review committee for the TEKS-AASL Standards Alignment project: http://teksalign.pbworks.com/
Dr. Jennifer Richey published an article with Dr. Maria Cahill, "What's a School Librarian's Favorite Preposition? Evidence In, Of, and For Practice," in Knowledge Quest, 43(3), pp. 68-73, 2015. Dr. Richey also presented "Best New Books for Young Children: Librarians' Choices," with Dr. Sylvia Vardell, Dr. Marianne Follis (SLIS 2012 Ph.D. graduate), Sarah Dornback (SLIS doctoral student), Emily Fultz Bredberg, and Dr. Janet Hilbun, at the TWU Early Literacy, Reading Recovery & Leadership Institute, Dallas, Texas, in November 2014.
Dr. Sylvia Vardell had several recent publications and presentations. Her publications include:
Vardell, Sylvia M. (2014). Exploring science with poetry. Book Links. Nov., 24 (2).
Vardell, Sylvia M. (2014). Poetry and social justice. Book Links. Sept., 24 (1), 16-21.
Vardell, Sylvia M. and Wong, Janet. (2014). Capture your colleagues with a literacy + science approach for K-5. The STATellite. Fall, 58, (4), 20-22.
Dr. Vardell also wrote educator guides for several newly published books of poetry including Silver People, The Crossover, and Winter Bees.
Dr. Vardell's recent presentations include:
Keynote Speech at the University of Texas at El Paso ABC Conference: "Invisible Keepsakes: Teaching from the Heart," El Paso, TX, October 2014.
"The Science of Poetry," with Alma Flor Ada, Susan Blackaby, F. Isabel Campoy, Margarita Engle, and Janet Wong, at the ALSC Institute, Oakland, CA, September 2014.
"Keepin' it Real: Sharing Poetry with Tweens and Teens," with Janet Wong, K. A. Holt, Sara Holbrook, Guadalupe Garcia McCall, Michael Salinger, and Jacqueline Woodson, at the YALSA Symposium, Austin, TX, November 2014.
"Social Studies and Poetry: Poetry Across the Curriculum," at the National Council of Teachers of English Annual Convention, National Harbor, MD, November 2014.
"Sharing Random Books of Kindness: The Power of Story," with poets Janet Wong, Jerry Spinelli, and Eileen Spinelli, at the National Council of Teachers of English Annual Convention, National Harbor, MD, November 2014.
Dr. Vardell also served as a judge for the poetry category of the CYBILS Award, Children's and Young Adult Bloggers Literary Award, and on the Nominating Committee for the Children's Literature Assembly of the National Council of Teachers of English.
Alumni and Student News
Congratulations to SLIS alumni who have recently received awards!
Colleen Graves, MLS 2012, was recognized by School Library Journal as one of the top three finalists for its School Librarian of the Year award. Colleen is the librarian at Lamar Middle School in Flower Mound, TX (Lewisville ISD). She is featured in the September 2014 issue of School Library Journal.
Irene Kistler, MLS 2013, was recognized as a state finalist for the 2014 Texas Teacher of the Year award, by the Texas Association of School Administrators! Prior to that, Irene was named teacher of the year at Ed White Middle School in her first year as the librarian. She went on to become the Teacher of the Year for North East ISD, and was recently named Teacher of the Year for all of Region 20!
Emily Vardell, MLS 2007, was selected as a 2014 recipient of the Association for Information Science and Technology (ASIS&T) New Leaders Award.
Congratulations to current SLIS students who have recently received scholarship awards!
Nekeeta Borden received the 2015 E.J. Josey Scholarship Award from the Black Caucus of the American Library Association.
Tyler Moses was awarded the MLA Minority Scholarship.
Raquel Williams received the 2015 MLIS Scholarship from the Texas Library Association, College and University Libraries Division, and she was awarded the TLA New Members Round Table Student Conference Stipend.
Several TWU Alumni were selected for the TLA 2015 TALL Texans Leadership Development Institute. We are proud of you!
Edgar Fuentes (MLS 2014)
Cynthia Pfledderer (MLS 2005)
Peace Ossom Williamson (Dual MLS/MS Health Studies, 2013)
Other Student and Alumni News and Achievements
2014 MLS graduate, Kelly Baxter, was awarded a professional development internship in the Advancement Office of the Smithsonian Libraries, while she was still a student in the MLS program. Kelly spent six weeks in Washington, D.C., in summer 2014 for her internship, and after its completion, she wrote a blog post about her experience for the Smithsonian Libraries "Unbound" blog.
Congratulations to 2014 MLS graduate Amy Bearce! Her first book, Fairy Keeper, an upper middle grade novel, was published by Curiosity Quills Press in March 2015.
Walter Betts, SLIS adjunct instructor and 1998 MLS graduate, was elected as the President-Elect of the Texas Library Association.
Current MLS student, Skyla Bryant, gave a virtual presentation at the TWU 18th Annual Student Creative Arts and Research Symposium on April 14, 2015. Her presentation, entitled "Navigating Obama Care – A Proposed Collaborative Resource," was sponsored by Dr. Carol Perryman.
Susan Corapi, 2008 MLS graduate, recently earned her PhD at the University of Arizona. She successfully defended her dissertation, entitled "Exploring Intercultural Understanding Through Global Children's Literature and Educator Study Groups," directed by Dr. Kathy Short, Professor and current President of the National Council of Teachers of English.
Leslie Drake, MLS student, was honored by TWU SLIS and ALA to represent SLIS as part of the 2015 ALA Student to Staff Program at the ALA Annual Conference in San Francisco in June.
Current doctoral student and 2008 MLS graduate, Beth Enochs, recently published her article, "School Library Collection Analysis: A Literature and Methodology Review," in Current Studies in Librarianship, vol. 32, no. 1.
Cathleen Galley, MLS 2013, was hired in Fall 2014 as a Faculty Librarian/Assistant Professor at Austin Community College, Highland Campus.
2007 MLS graduate, Lisa Taylor has been named the 2015 ALA ALSC Co-Chair of the Great Websites for Kids Committee.
Ashley Weibling, 2013 MLS graduate, is featured in the cover story, "Dog Therapy 101," in the November/December 2014 issue of ALA's American Libraries (pp. 30-33). She taught at Savannah Elementary School (Denton ISD) while in the MLS program, and as part of her coursework for the Youth Programs course (LS 5343), she designed a therapy dog program, which was highlighted in American Libraries.
Peace Ossom Williamson was selected as the Association of College & Research Libraries (ACRL) Member of the Week for December 8, 2014. She is featured in a post on the ACRL Insider. Peace is a 2013 graduate of the Dual MLS/MS Health Studies degree program. She was also recently selected for the 2015 class of the TALL Texans Leadership Development Institute.
Page last updated 8:11 AM, April 21, 2022