Touchet receives 2019 Barnett Service Award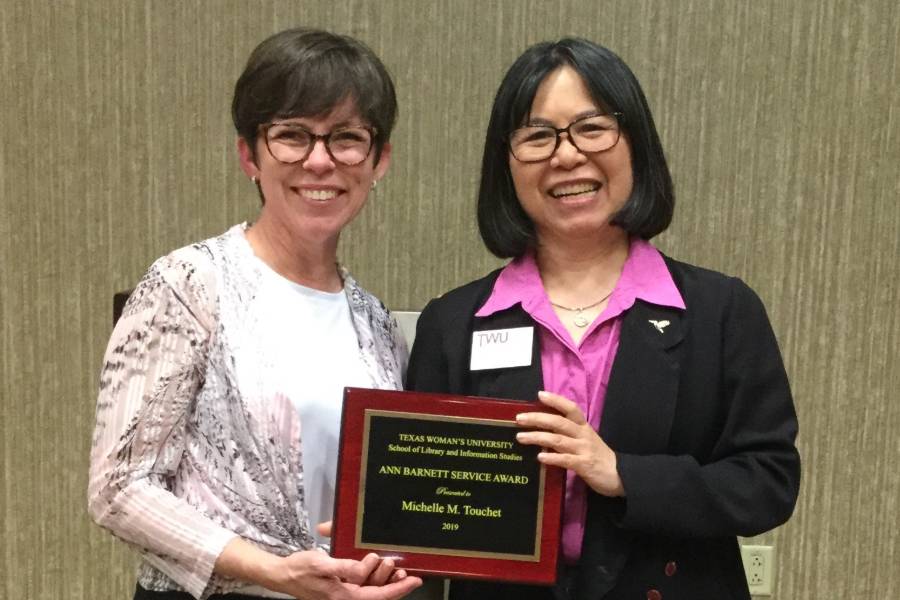 Michelle Touchet (MLS 2008) was named the recipient of the TWU SLIS Ann Barnett Service Award for 2019. This $1,000 award was presented April 17 at the TWU SLIS Reception in conjunction with the TLA annual conference in Austin. The Ann Barnett Service Award recognizes exemplary service to the principles and purposes of librarianship and professional education as demonstrated by sensitivity and responsiveness to people's needs.
Touchet is a librarian in Dallas ISD and has been an advocate for the Spanish-speaking community by participating on the Luminarias Committee for over 12 years. This committee reviews Spanish and bilingual materials for use as collection development tools for other librarians. She has been a member of TLA and involved as a presenter, committee member and volunteer since 2005. Touchet also has been in DASL (Dallas Association of School Librarians) since 2005, serving as secretary this year and coordinating continuing education classes and programming for monthly meetings.
Touchet self-nominated for this award in addition to being nominated by Gay Patrick, director of Libraries for Dallas ISD. Our selection committee decided that Touchet's body of work was the most well-rounded; that she has an incredible work ethic; and is committed to and serves her profession and community "in ways none of the other candidates can touch." Kerol Harrod (MLS 2014), a selection committee member and previous Barnett award winner, said, "… if I ever wanted something done well, library related or not, I would turn to Michelle."
Page last updated 4:06 PM, June 12, 2019